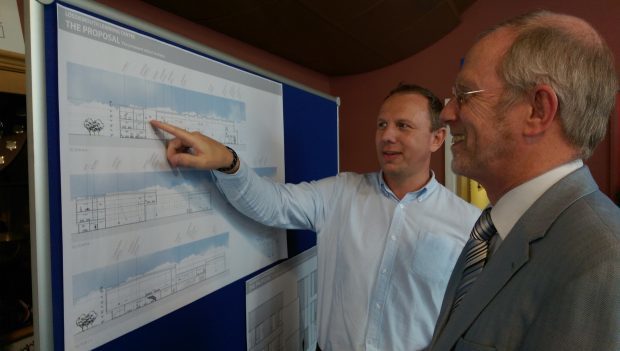 Staff and pupils at a Moray school have been granted their first look at the design of their new buildings.
Drawings have gone on display, providing a template of the building that will become the new £36million Lossiemouth High School.
Teachers and students were shown the designs earlier this week and they went on public display for the first time yesterday.
At the heart of the three-storey building is an airy atrium with a shared dining room and performance space on the ground floor.
Large staircases will take students to the classrooms and corridor learning spaces on the upper floors.
Architect Stewart Davie from Edinburgh firm JMArchitects explained it was important schools no longer resembled sets from films such as "The Shining".
He said: "Previously, the designs just used to be long corridors with doors at each side. Schools just aren't like that now.
"This design is going to be bringing the community in for evening events, so it's going to be the heart of the community and it's important the design reflects that.
"We've tried to bring all the rooms together and get rid of dead space by allowing lots of learning spaces for lessons or independent study just off the corridors."
Construction on the new school, which will have an expanded capacity of 800, is expected to begin in March next year. The building, which will be to the south of the current school, is due for completion in 2020.
Once the existing buildings are demolished, an artificial football pitch will be installed in their place.
The new designs include a public library, community centre and four-lane swimming pool.
Moray Council's project officer Shona Leese explained the designs were in the early stages and could still be shaped by public feedback.
She added: "It's all lines and drawings at the moment. At this stage, it's very easy to come up with different options.
"Staff have already had a look and made comments so we're taking them on board."
Lossiemouth High School deputy head teacher Bob Drysdale said: "It's very exciting to get a new school. The size of the rooms are going to be fit for the 21st century."
The designs of the new Lossiemouth High School will be on display in the town's community centre from Monday, June 5 to Friday, June 16.