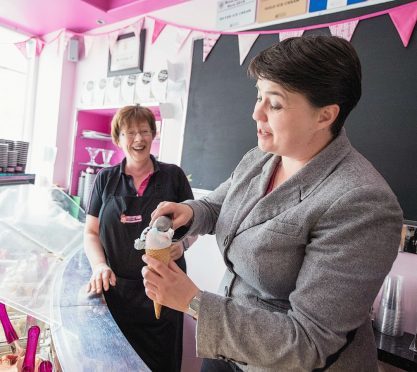 On the day that opinion polls indicated the SNP's deputy leader is in danger of losing his Westminster seat, Ruth Davidson visited his constituency to rally support for his Tory opponent.
The Scottish Conservative leader travelled through towns and villages across Moray yesterday in a bid to end the SNP's 30-year period of control in the region.
She was accompanied by Tory hopeful in the upcoming general election, Douglas Ross.
Angus Robertson set to lose Moray to Tories as three north-east seats turn blue, poll finds
A new poll has indicated that Mr Ross is on course to upset Angus Robertson – who won the 2015 Westminster vote with a majority of more than 9,000.
Mr Robertson, who has held the Moray seat at Westminster since 2001, dismissed speculation about the possibility of losing his seat earlier this week.
He accused the Tories of "overblown arrogance" and "taking votes for granted" after the party declared the constituency winnable.
But yesterday, Ms Davidson said her trip to Moray proved the Tories were "fighting hard" to win over local voters.
She added: "The SNP are rattled, they know it's going to be a close vote in Moray.
"But we don't take anything for granted, that's why I am here knocking on doors and speaking to people.
"Mr Robertson spends a lot of time in the TV studios of London and Edinburgh, but Mr Ross is spending his time canvassing and talking to local people."
Last night, Mr Robertson responded: "As the SNP's candidate, I am committed to being a full-time representative for the people and communities of Moray rather than a part-time Tory cheerleader who has already stated he will continue to be a professional referee.
"In Moray, this election is a clear two-horse race between the SNP and Tories, who have made it clear they want to continue with austerity budgets, which are causing massive problems for vital public services."
Ms Davidson and Mr Ross began their day of canvassing at a farm near Dallas, and later visited Forres, Fochabers and Buckie.
Visiting the Fochabers Ice Cream Parlour, Ms Davidson revealed that she had worked as an "ice cream scooper" at a cinema while a student.
Independent, Anne Glen, Labour's Jo Kirby and Liberal Democrat Alex Linklater will also contest the Moray seat.