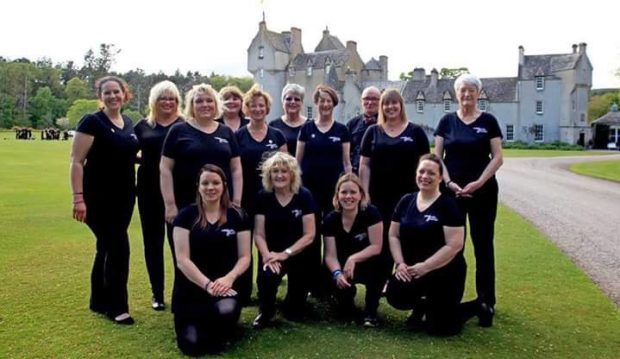 Singers from a Moray military wives choir will perform a poignant programme of songs for Armed Forces Day later this month.
The Kinloss performers will take to the stage at Balmoral as part of a fundraiser to help wounded servicemen back into work.
Teams of navigators will use compasses and maps to track their route across the Deeside estate to raise money for charity Walking With The Wounded (WWTW).
Prior to the fundraisers hitting the hills for the 20-mile expedition over three Munros, they will be entertained by the Kinloss Military Wives Choir.
Members are already rehearsing a touching repertoire for the event, including "Bring him home" from musical Les Miserables, Adele's "Make you feel my love" and a medley of Vera Lynn tunes from World War II.
The group also provided the soundtrack for when WWTW fundraisers set off from Glenfiddich Distillery last year on a 500-mile walk.
And choir member Jenn French explained the singers were eager to do what they could to support the charity again.
She said: "Most of the guys that work for the charity are wounded veterans themselves. What they want to show is that, if they can get into work, then so can anyone.
"There's always that worry and possibility that one of our members' families will need their help. Charities that do these kinds of things shouldn't have to exist, but they do – what they do is totally selfless.
"Fortunately, nobody in our group is married to someone who has had the reason to contact them, but we still want to do anything we can to help them."
WWTW finances courses for wounded and sick servicemen to get qualifications once they leave the armed forces. The charity also works with them to identify a new career path.
The Kinloss Military Wives Choir will perform at a dinner in the grounds of Balmoral Castle on Friday, June 23.
The following day, fundraisers will set off on the 20-mile hike back to Balmoral after being dropped off at a secret location as well as a separate 12-mile treasure hunt and nine-mile woodland trail.