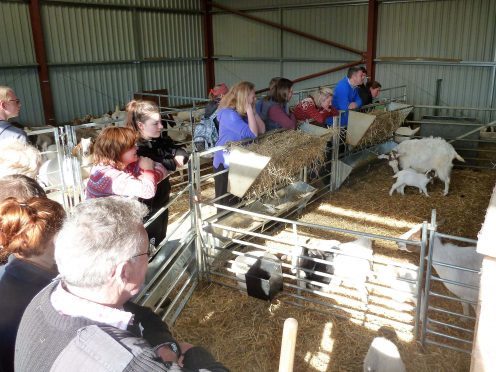 Organisers of farming courses in Moray have experienced a surge in demand from locals wanting to turn their hand to crofting.
Dozens or participants have attended tutorials in Drummuir and Craigellachie to learn about the practicalities of keeping animals.
Students experienced live births of lambs to learn first-hand about the processes involved in bringing new farm animals into the world.
Demand for the courses has proved so popular that organisers from the Scottish Crofting Federation have had to add extra dates.
More than 40 locals have been learning about the tasks involved in lambing as well as how to tend to goats being reared to be sold as food.
Brian Cameron, who hosted the goat-keeping for meat days at Elchie's Farm near Craigellachie, said: "Having spoken to many people, it's absolutely clear that courses like these provide a vital rung on the ladder to crofting and to adding diversity in existing farming businesses."
Mel Irvine, who ran the lambing lessons at Drummuir Estate, added: "It's a great way for everyone to learn new skills, from the course, and also from each other.
"We also have several live births on the day, enabling participants to really see what lambing is all about."
Keeping small ruminants, including sheep and goats, has been hailed as an organic way to reduce weeds while the animals produce meat, wool, milk and skins.
Organisers are intending to capitalise on the demand for lessons by expanding the range of courses during the next two years.
Patrick Krause, chief executive of the Scottish Crofting Federation, was encouraged to see a strong uptake for the existing tutorials in Moray.
He said: "It's really promising to be holding courses in such a new crofting area.
"The uncertainties of Brexit mean everyone involved in land management feels concerned, but the resilience of crofting is well known and our courses contribute to ensuring the future of small-scale food production."
The crofting federation is running another goat-keeping course on Wednesday, July 19. Places can be booked by contacting training@crofting.org