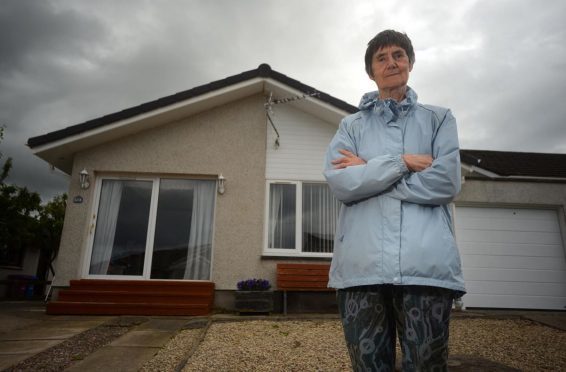 Bogus workmen bullied a Moray pensioner into handing over £900 in cash for "repairing" a roof – which still leaks.
Retired teacher Shirley Mitchinson agreed to have work done to her gutters by door-to-door salesmen following recent heavy rain.
But the Forres 70-year-old was shocked when their estimate of £230 soared to a bill for £1,460 for less than four hours of work.
And the aggressive crew then threatened to "tear it all down" unless Miss Mitchinson handed over the cash immediately.
When the intimidated homeowner went to the Elgin branch of Santander, alert staff, concerned about the amount of money she was withdrawing. warned her that the men could be rogue traders.
But on returning home to tell the men she wanted to pay electronically into their company account they became abusive, shouting "Why don't you trust us?"
The retired teacher eventually withdrew £900 following a second trip to the bank after feeling she had been left with "no other option" to get rid of them.
Last night Moray Council's trading standards team revealed there has been an increase of travelling salesmen offering to do house repairs this year.
Miss Mitchinson said: "When I told him I wasn't going to pay cash he threatened to tear it all down. They were being very aggressive with me – shouting demanding money.
"I wasn't refusing to pay them but I wanted to pay directly into a company bank account but they didn't appear to have one.
"They handed me some stationary and a business card. It didn't look legitimate though, just like something you would find online.
"One of them struggled to sign his own name."
Miss Mitchinson initially thought the men, one in his 40s and a teenager, were reputable when they pulled up in a new white van with the services they offer advertised on the side.
However, her suspicions began to mount when they refused to say where they were based.
Yesterday the former teacher revealed that the gutter still leaks on her Forres home.
She added: "They told me they had just finished a job down the road and would do some work for me at a discounted rate. I needed it done because of all the heavy rain recently.
"I just feel like I've been taken advantage of because I live on my own. I just hope that other people realise this sort of thing goes on and don't fall victim to it too."
Yesterday a spokesman for Moray Council urged residents not to "deal on the doorstep" and to stick to local traders who are known to do good work with neighbours and friends.
He said: "Although trading standards cannot comment on an ongoing investigation, this case highlights the need for residents and homeowners to be on their guard against doorstep sellers offering to carry out work on their homes.
"Moray has seen a significant rise in itinerant traders offering to carry out work to roofs, gardens and driveways this year.
"We are working closely with partners to investigate complaints of poor workmanship and breaches of consumer protection legislation which is there to protect consumers."