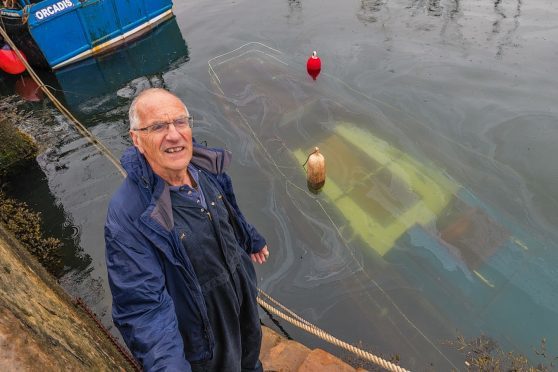 A budding yachtsman could only watch in horror as the 40ft vessel he spent five years restoring sank immediately after being launched.
Forres pensioner Robert Ogilvie spent countless hours in his back garden upgrading the 1930s Windfall yacht as a retirement project.
The boat, named Sea Wraith, has its roots in Nazi Germany and was one of about 100 taken by the British Army after World War II.
Convinced it was finally ready to take to the waves once again, Mr Ogilvie shifted the historic boat from his Moray home yesterday afternoon.
But within seconds of setting sail at Burghead Harbour, Sea Wraith began to take on water and sank before even making it from the port.
Surveying the submerged fruit of his labours from the dock, Mr Ogilvie found himself able to look on the bright side.
The 75-year-old joked that his wife would at least be pleased that the boat was now gone from their garden.
The retired forester, who is originally from Aberdeen, said: "It's only a boat, this is just part of life.
"I have spent the last five years rebuilding her, and now all I can see is it glimmering gently through the water.
"I was a bit worried about going sailing in it, and I can see why now.
"Taking the yacht from my garden and down to the harbour was fantastic fun though, and it sinking was the culmination of an interesting day.
"I've had enough of yachts now, I'm going to move on to my next project."
Mr Ogilvie added that he was "annoyed" that his prize possession was now "getting in the way" of operations at the commercial port and said he would have preferred it to sink at sea.
Divers were last night examining whether slings could be tied around the yacht to lift it from the seabed.
Buckie trawlerman Nick Scott helped pull Mr Ogilvie from his sinking vessel and onto his fishing boat.
He said: "We got a rope on the yacht and tried to pull it to the slipway, but it sank quickly, and all I dragged Mr Ogilvie onto my boat."
A spokesman for the coastguard service added: "We sent a team to check out reports of a yacht that had sunk, everyone was safe."
FASCINATING HISTORY
The yacht which sank at Burghead yesterday has a fascinating history stretching back to pre-World War II Germany.
It was part of a  fleet built in the country  in the 1930s to train the armed services.
The boat, named Zeegeist at the time, was one of about 100 which were taken by the British Navy as reparations following World War II.
As the vessels were procured free of charge, they became known as Windfall yachts.
Almost all British service personnel who sailed offshore for the next two decades  were introduced to sailing in those yachts.
In later years,  the Navy gradually disposed of them and they were bought by civilian owners – becoming  sought-after collectors items.
Mr Ogilvie, who has had a lifelong passion for boating, purchased his Windfall from a seller on the River Thames in London more than 10 years ago.
He was unwilling to disclose how much he paid for the vessel "in case his wife found out".