Hundreds of well-wishers attended the fairytale "wedding" of a north-east youngster whose battle with cancer has touched hearts across the planet.
After being warned that her condition is terminal, Eileidh Paterson's family created a bucket list of aspirations to make the most of the Forres five-year-old's remaining time.
IN FULL: The speech a Moray mum wrote for her terminally ill daughter's fairytale wedding
And staging a "dream wedding" for Eileidh and her best pal Harrison Grier, six, was top of that list.
Despite the bleak diagnosis, there was a celebratory atmosphere at the Aberdeen Exhibition and Conference Centre yesterday as people travelled from as far as London to be part of the day.
Close friends and family gathered in a meeting room as the children held hands and exchanged necklaces, while the touching scenes were beamed onto a large projector screen in an adjoining auditorium.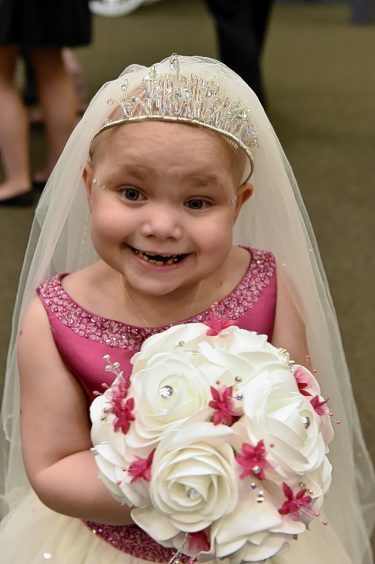 Pipe Major Sandy Shearer, from the Buckie and District Pipe Band, got the event under way and was followed to the makeshift altar by a procession of costumed superheros and princesses.
Eileidh was walked into the room by her older brother, Callum, to When You Wish Upon a Star from Disney film Pinocchio.
Aberdeen pupil gives up birthday present for children with cancer
Zara Grant, who runs children's entertainment firm Love Rara, read out a version of Eileidh's life story written in the style of a fairy tale.
The piece, penned by Eileidh's mum, Gail Paterson, characterised the neuroblastoma which has blighted her childhood as an "evil beast".
Ms Paterson referred to her daughter as "a princess who would stop at nothing to survive" while documenting her fight against the aggressive disease.
Watch Eileidh celebrate her "wedding" by dancing to Gangnam Style
Eileidh's sister, Cerys, read a poem which ended with the words "even if we are apart, I will always be with you".
After being officially declared "best friends forever", Eileidh and Harrison entered the auditorium where they celebrated with sticks of candy floss.
They later took to the dance floor and got the party into swing with an energetic Gangnam Style performance.
The hall filled with pop music and Disney anthems for the rest of the afternoon, as guests toasted the happy couple.
Harrison's dad Billy Grier said: "Harrison has never been to a wedding before, so this is all new to him, but it was a beautiful ceremony and he enjoyed every minute."
LASTING MEMORIES
Gail Paterson looked on with pride as little Eileidh took centre stage during yesterday's special ceremony.
And though the day was a bittersweet one for the Moray mum, she expressed delight that the occasion had brought out the best in her poorly daughter.
Ms Paterson explained that Eileidh was at a particularly low ebb on Saturday after having blood transfusions, prompting concerns she may not be able to enjoy her big day.
The Moray mum said: "She was just extremely drained, but she was like a different girl during the ceremony.
"The spectacle of it all really perked her up, she was in her absolute element getting to play with other kids and have fun.
"For the family, these are going to be lasting memories."
She added: "I'm so thankful to everyone who helped put this together, almost all of it was donated."
The Forres woman raised more than £120,000 to send Eileidh to America for treatment in 2015, and has since campaigned to raise awareness of the realities of childhood cancer.
Through her Eileidh's Journey Facebook page, Ms Paterson aims to make people more aware of the symptoms of the illness.
Donations can be made towards Eileidh's bucket list at www.gofundme.com/eileidhsjourney