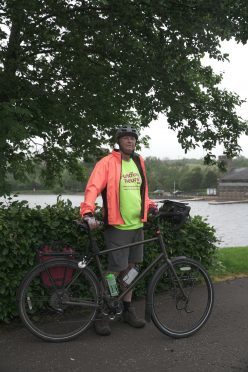 A retired RAF search and rescue pilot has returned to Moray to commemorate a frightening operation to rescue fishermen from the North Atlantic.
Tony Gear, 62, is cycling from his Isle of Wight home to John O'Groats to raise money to stop children suffering brain tumours.
Yesterday, the grandfather took a detour to Lossiemouth, where he was based with the RAF for more than 20 years, to remember the stormy rescue in 2002.
Mr Gear revealed the crew was at "the limits of our endurance" as the ship listed on the water while plunging up to 30ft at a time on the waves.
A total of 18 fishermen were winched to safety by the Sea King helicopter during the raging tempest before being taken to Stornoway.
Mr Gear signed pictures of the aircraft he piloted on that fearsome February evening during his return to Moray.
He and his colleagues were subsequently honoured by the RAF with bravery awards for their part in the mission.
He recalled: "It would usually have taken an hour to winch 18 people, but we were able to do it in about 25 minutes before landing back at Stornoway with only 10 minutes of fuel left."
Mr Gear is due to arrive in John O'Groats today to complete his 21-day cycling challenge from the south of England to the very tip of Scotland.
The former pilot has already raised £1,500 to help Glasgow-based charity Funding Neuro, which assists with new treatments for neurological conditions.
He said: "When I heard about Funding Neuro's groundbreaking work, particularly with their research into saving children suffering from fatal brain tumours, I knew I had to do something to help."
Donations can be made online at www.justgiving.com/fundraising/tony-gear6