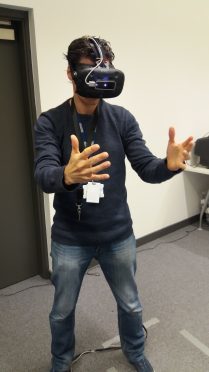 A Moray disability group is helping to pioneer technology which will allow vulnerable people to deal with stressful situations.
Specialists from the Friendly Access charity have teamed up with Glasgow School of Art to make a virtual reality headset which will familiarise users with busy locations such as airports.
By taking part in practice sessions with the device, people with conditions like autism and dementia will be better prepared for the challenges those situations pose.
The scheme is also being hailed as a boon for people with mental health problems and learning difficulties.
Friendly Access leaders are sharing their knowledge on "hidden disabilities" with virtual reality experts at the Glasgow School of Art's School of Simulation and Visualisation.
They explained that people with such conditions were "far more likely to experience high levels of discrimination, fear and anxiety", which can lead to social isolation and poverty.
And the stresses of the outside world can act as barriers to those people leaving their homes and taking part in everyday activities.
The headsets will allow them to become accustomed to noisy and crowded situations without having to leave the front door.
The team will also create a free app for mobile phones, to help familiarise people with hectic environments.
The app will operate at several levels, allowing users to gradually overcome their worst fears.
The chief executive of Friendly Access, Glyn Morris, said: "Individuals living with mental health conditions, and heightened anxiety issues, are placed at an unfair disadvantage compared to their peers in society.
"We have been waiting four years for technology to catch up with our ideas."
Researcher, Matthieu Poyade, added: "Our aspiration is that this will enable vulnerable people to become more confident individuals."