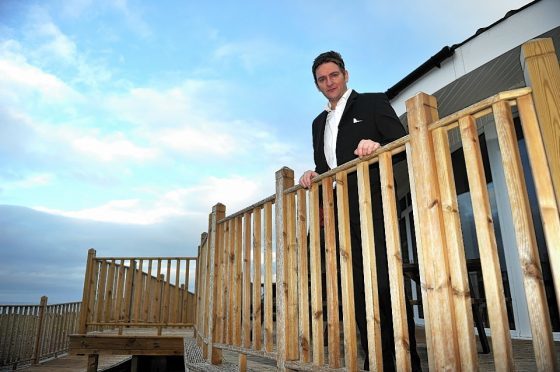 Traders have lashed out over IT issues which have left them paying full business rates – four months after ministers announced a relief package.
Moray council is unable to implement a cap on rises in hospitality industry bills because it cannot get hold of the necessary software.
It has left bosses fuming and worried about the impact on people's livelihoods.
Earlier this year, the north-east's business community rose up against Scottish Government plans to significantly raise the tax.
The move – which would have sent some firms' rates rocketing by more than 200% – sparked fears that many traders could go bust.
Amid the backlash, Holyrood finance bosses performed a startling about-face on the proposals in February by capping rises at 12.5% for the hospitality sector.
However, it is up to Moray Council to collect payments from the region's firms on behalf of the government and the change of plan has left the authority lagging behind.
Last month, traders had to pay the uncapped rate which had been originally suggested because the software required to calculate the revised sums had not been installed.
Business owners, who were given to understand that the problem would be resolved in short order, were left stunned when direct debits taken for June showed the same heightened amount had been taken.
And they now fear that there could be no end in sight for the misery, with Moray Council unable to advise on when the problems could be fixed.
They also lashed out against the authority for failing to warn them of the technological troubles.
Moray Council said Finance Minister Derek Mackay's change of heart in February had caused the ordeal.
A spokesman said software suppliers were "doing their best to keep up with demand" as other councils face the same fiasco.
Aberdeen City Council now has the software but neither Moray nor Aberdeenshire have received it.
Graham Fleming, who runs Lossiemouth's Beach Bar, feared the tax rise originally proposed for his premises, of 216%, would leave it "bankrupt by Christmas".
His bills had been poised to soar from £13,500 to £42,000 annually, and he was "relieved beyond belief" when the cap was announced as it meant he would face a maximum increase of only £7,400 this year.
Following the government U-turn, he is supposed to pay only £616 each month – but has been charged £1,900 for the last two months.
Mr Fleming said: "This has come up with no warning, and the council can't offer any idea on when it might be sorted.
"I worry some firms might not have budgeted for this, and it could hit them very hard.
"I can't believe that, in this day and age, the council has been unable to adjust its software."
Manager of the Mosset Tavern in Forres, Gordon Brailsford, said his rates had risen a "staggering" £2,000 each month instead of the £275 they should have gone up by.
Mr Brailsford added: "I can't understand how a software change is being blamed, I can work out 12.5% using a pencil and paper.
"I used to pay £2,200 each month but for May and June it has been £4,152.
"I filled out the form asking for the cap to be applied at the right time, so it was an absolute shock to find out that it couldn't be processed.
"I don't want to lose staff or put up the price of pints, and the worst thing is that we have no idea when this will be resolved."
Although Moray Council could not confirm when the situation would be sorted out, it is understood that there is a "rough timeline" in place.
A spokesman said: "We are still awaiting the arrival of the necessary software from our suppliers who have been doing their best to keep up with demand from other local authorities who find themselves in the same position.
"In the meantime, we are in receipt of applications for transitional relief and they will be dealt with once we have the software installed, tested and up and running."
A government spokesman said: "We have committed around £660million of business rates relief this year, including around £37million to specifically support hospitality firms.
"The detail of this relief has been known since March and is up to local authorities to administer."