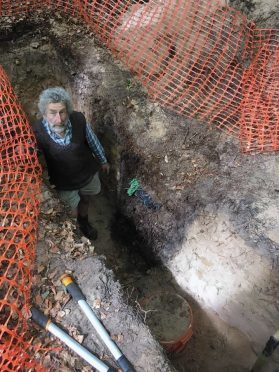 Archaeologists are asking people who attended Forres Academy 50 years ago to dig deep into their memories to help discover new details about the town's past.
A group of international experts are excavating Cluny Hill in a search for the remains of an Iron Age fort believed to be buried there.
Their efforts were boosted at the weekend with the discovery of what they reckon to be stone tool used to grind grain centuries ago.
And now the group is turning to Forres Academy alumni for assistance in piecing together the mound's mysterious past.
The archaeologists found that one of the four trenches they have carved out was explored by youngsters from Forres Academy 47 years ago.
But there are no records documenting what the pupils managed to unearth, and organisers are urging any participants with memories of the dig to get in touch.
Volunteer Nick Molnar said crisp packets dating from the 1970s gave away when the previous excavation took place.
The Forres resident said: "We believe that the test pit may have been part of a school geography project, and we are appealing to anyone who was part of it to get in touch.
"We don't know what, if anything, the pupils found but any information will be gratefully received."
Archaeologist Michael Sharpe has been leading the project, which is centred around areas thought to have been used as ditches running from the fort.
He said the most significant find so far has been a suspected fragment from a saddle quern which could date back further than 200BC.
The ancient objects got their name because people would sit down and place the stones between their thighs to grind grain into flour.
Mr Sharpe said: "Although the stone could date back beyond 200BC, we don't know that the ditch is also that old.
"We think these items had superstitious beliefs around them, and were often passed down through generations.
"It was about 5ft deep, along with some charred wood, and that seems to indicate that this was once the site of a fort."
Anyone with information on the hill's history which could assist the project should e-mail cluny.hill.dig@gmail.com