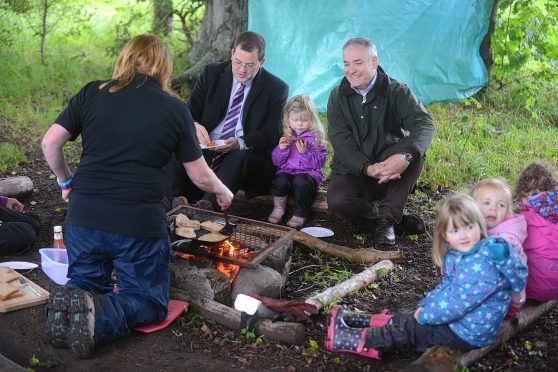 A Moray children's charity revealed its ambitious expansion plans during a VIP visit yesterday.
The Scottish Government's minister for childcare and early years, Mark McDonald, gathered with toddlers from the Earthtime outdoor education group at Duffus.
As Mr McDonald tucked into a plate of French toast, cooked over a campfire, nursery bosses explained their vision for the future.
Senior outdoor practitioner, Natalie Campbell, said the outfit had been granted permission to extend its operations into other parts of the Duffus Estate.
She said: "We have been given the use of an annexe which we can adapt as our office, and are in the midst of plans to take that over.
"But one of the planning conditions for using it is that we build a car parking area there, and make it accessible to everybody.
"For that, we will need to raise £18,000 and that is currently our top priority.
"I explained our plans to the minister, who seemed to agree that outdoor education is the way forward."
Mr McDonald is MSP for Aberdeen Donside and has been minister for childcare and early years since last May.
His visit was arranged to discover more about the growing trend towards children taking lessons in the great outdoors.
After participating in a woodland teaching session, Mr McDonald said more youngsters would take part in nursery groups like Earthtime in the coming years.
He added: "Outdoor education is something I am keen to see develop as we expand free childcare from 600 hours to 1140 hours each year across Scotland.
"Most nurseries are now taking forward the approach that Earthtime has pioneered in Moray."
Moray MSP Richard Lochhead accompanied the minister on the visit.
He said: "Earthtime is providing kids with real opportunities to learn and develop in an outdoor environment, allowing them to connect with nature from a very young age.
"The group is doing excellent work and I'm thrilled members got the chance to show the minister what they're doing and tell him about their plans for the future."
To mark the final day of the school term, Earthtime held an open day yesterday which was attended by several parents.
More information about the charity, including how to donate cash towards its expansion, is available at www.earthtime.co.uk