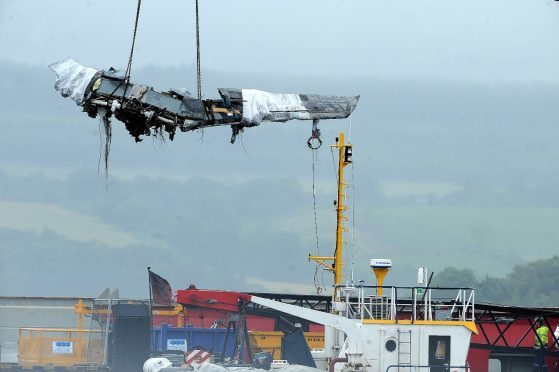 Safety fears have been reignited on the anniversary of an RAF Tornado crash over the Moray Firth which killed three airmen.
Campaigner say little has been done to address the issues raised by the mid-air collision on July 3, 2012.
RAF Lossiemouth Squadron Leader Sam Bailey, Flight Lieutenant Hywel Poole and Flight Lieutenant Adam Sanders were all killed when the two GR4 jets crashed into one another seven nautical miles south-east of Helmsdale.
Squadron Leader Paul Evans suffered serious injuries.
In the aftermath of the tragedy, an official reports indicated that it could have been avoided if the aircraft involved had been fitted with collision-warning systems (CWS).
However, no such additions have been made to the UK's fleet of Typhoon fighter jets – many of which perform training exercises over the north and north-east of Scotland.
Campaigners argue that, five years on, little has changed to protect airmen from a similar catastrophe taking place.
Retired RAF officer Jimmy Jones yesterday voiced fears that pilots are still being left at risk of harm.
Mr Jones worries that it may take another fatal accident to spur the Ministry of Defence (MoD) into making the desired improvements.
Last night, the MoD insisted that upgrading Typhoon jets with CWS "remains a priority".
However, Mr Jones said military chiefs should have taken steps to improve safety years ago.
He said: "The MoD says that safety is a priority but there remains no programme in place for equipping Tornado jets with collision warning technology.
"A report published by the Military Aviation Authority (MAA) three years ago indicated these systems would benefit Typhoons, and there still isn't a plan there.
"I doubt anything will be done unless there is another accident.
"This is a matter of public safety as well, there could be terrible consequences were a crash to take place over a residential area."
Mr Jones pointed to a string of "near-misses" as further reason to make changes.
Last December, it emerged that a Typhoon fighter jet from RAF Lossiemouth narrowly avoided colliding with a light aircraft while flying low over Loch Ness.
The UK Airprox board, which investigates near misses, highlighted the lack of CWS in the Moray-based Typhoon fleet.
The issue was also raised in 2015 following reports that a Typhoon "unwittingly" flew just 300ft above a Hawk jet, and that two RAF Tornado jets almost crashed over Lossiemouth as they were coming in to land.
An MAA Air Safety Report carried out between 2013 and 2014 also backed Mr Jones's campaign.
Air Marshal Sir Richard Garwood wrote: "In my view, not fitting collision warning systems to the Typhoon is an unsustainable position and I recommend that this be pursued with full haste."
Moray MP, Douglas Ross, pledged to take up the matter with Defence Minister Michael Fallon.
Mr Ross said: "I believe that any measures that can be taken to reduce the risk to aircrew on training and operations must be considered, and I will be questioning Defence Ministers on this.
"Five years on from the tragic incident, it's important that lessons are learned."
An MoD spokesman said: "Safety is a paramount concern, and we remain committed to embodying a collision warning system on Typhoon as a priority."
Family of the personnel killed in the 2012 crash will observe the anniversary by laying wreaths at a monument on Forres's Califer Hill, overlooking the Moray Firth.