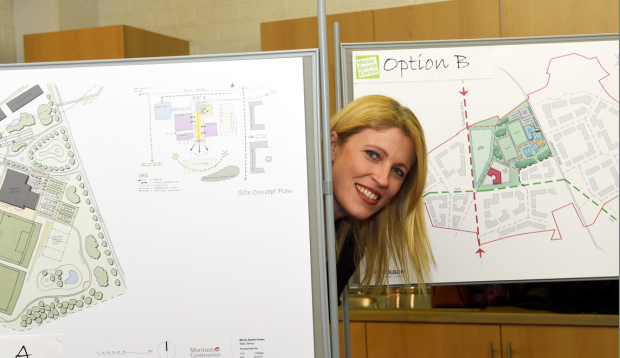 Tennis fans in Moray are being urged to back a campaign to secure £1million towards building courts at a new sports centre.
The Tennis Scotland group has pledged to donate £15million to increase the number of indoor or covered courts across the nation over the coming decade.
The team behind Moray Sports Centre believes that some of that money should be funnelled into the venture, which was granted planning permission last week.
Designs for the venue show four indoor courts as part of the complex, but the necessary funding is not yet in place to build them.
Project leader, Kathryn Evans, has now asked locals to complete a Tennis Scotland survey making clear their strength of feeling on the matter.
She said: "Tennis is a fantastic sport but it needs to be played all year round for people to become successful, and in Moray we can suffer from unpredictable weather.
"Indoor courts are something local groups have wanted for a long time, and we want to be one of the earliest beneficiaries of this funding programme.
"It's important that this isn't just for serious players, but for anyone who likes the sport and would like to try it out with their friends or kids.
"We are a charity, and the courts alone will cost roughly £1million so we are reliant on outside funding. "
Tennis ace Andy Murray's connection to Moray was celebrated after he won his second Wimbledon trophy last summer.
Mr Murray's great-grandfather served as the chemist in Fochabers, and his grandfather was born and brought up there.
Residents watched on a year ago with delight as the Scot – who got the defence of his title off to a winning start yesterday – trounced Milos Raonic in straight sets during a memorable final.
Jubilant scenes broke out in the High Street's Fochabers Ice Cream Parlour at the result, where staff had prepared a Murray Mints flavour in the star's honour.
His mum, Judy Murray, has since visited the region and lent her backing to the sports centre proposals.
Last week, she described the venue gaining approval from Moray Council as "great news" on Twitter.
Ms Evans is hopeful that Mrs Murray will be among the first visitors to the new courts once they are open.
The Tennis Scotland questionnaire can be completed online at www.surveymonkey.co.uk/r/HighlandTennisIndoor