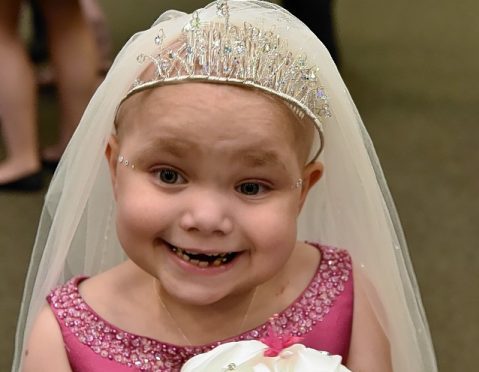 Plans are being formed to give an inspirational Moray youngster a send-off "fit for a princess" after losing her battle with cancer.
Eileidh Paterson died at the age of five at the weekend, less than two weeks after her fairytale "wedding" touched hearts all over the planet.
The Forres girl had already become well-known across the north-east after a crusade to send her to America for treatment raised £125,000 within two months.
Tributes pour in for Moray youngster who died shortly after dream 'wedding' moved the world
She will be laid to rest next week, and preparations are being made for a special ceremony which will reflect her bubbly personality.
Charity champion Matt Denning sprung a surprise trip to Disneyland Paris on Eileidh last Christmas and has since become a firm family friend.
Mr Denning is helping Eileidh's devastated mum, Gail Paterson, to piece together the funeral.
Last night, he explained that they aimed to turn the sombre occasion into a "princess celebration".
Mr Denning said: "The idea is to have people dressed as all of Eileidh's favourite movie heroines, we want to make it as special as she was.
Global response to moving fairytale "wedding" boosts little Eileidh's bucket list appeal
"It will be a celebration of Eileidh, reflecting all the things that she was passionate about in life.
"She was such a cheeky little character, who could just make anyone smile and laugh within seconds, and we want to do her proud."
Eileidh was diagnosed with neuroblastoma when she was just two, and spent much of her life fighting the aggressive disease.
Earlier this year, doctors advised that her condition was terminal and the youngster's family formed a bucket list.
VIDEO: The moment brave Eileidh fulfils her "bucket list" dream… Of swimming with mermaids
The top item was ticked off on Sunday, June 18, when she and pal Harrison Grier were declared "best friends forever" during a fairytale-inspired "wedding".
Eileidh died on Saturday, surrounded by her loved ones and "cuddled up with her blankie".
A fundraising page has been created to help cover the cost of the funeral.
Mr Denning said that how to spend the proceeds from a previous fundraiser, for Eileidh's bucket list, was yet to be decided.
He added: "One of the things I do with my Matt's Mission charity is help to pay for funerals, it helps take a lot of the stress away from terrible situations like this."
Money can be donated towards funeral expenses at www.goldengiving.com/fundraising/Eileidhpatersonspecialsendoff