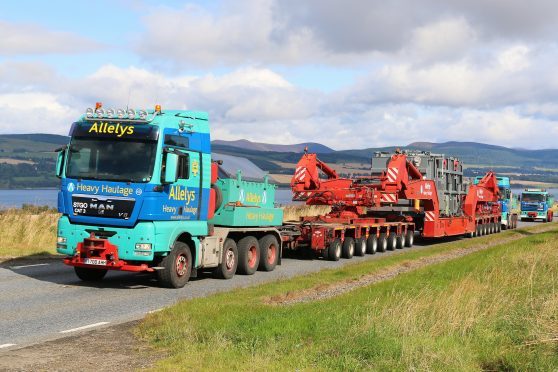 Four massive transformers will be given a police escort as they are carefully moved to a power station in Moray.
The huge electrical equipment, which weigh 245 tonnes each, will be carried on the back of a specialist truck to Scottish and Southern Electricity Network's (SSEN) base near Keith.
The large shipment has already arrived at Buckie Harbour from Sweden and will be moved to Blackhillock by haulier Allelys over the next four weekends, beginning on Sunday.
During the specialist operation, the B9016 Keith to Buckie road will be closed to allow the long lorries to manoeuvre round the twisty bends.
Parking restrictions will also be in force on the A96 Aberdeen road in Keith to ensure the shipments complete their journey safely.
Yesterday SSEN hailed the impending delivery of the transformers as a "milestone" in the £1.1billion project to connect Caithness to Moray by a subsea cable.
The electricity line will export power from the north of Scotland and will come ashore near Portgordon before continuing to Blackhillock.
David Fraser, SSEN's project manager, explained his team would be working with the roads authorities and police to ensure the hefty delivery makes it to the destination without a hitch.
He said: "Every stage in the journey of these transformers has been carefully planned, going back to the earliest stages of developing plans for the new substation.
"Once they arrive and are installed on site, they are expected to play a key role in the network for decades to come.
"The arrival of these transformers represents a significant milestone in the Blackhillock development and the overall Caithness to Moray transmission project."
After this weekend the three remaining transformers will be moved on July 16, 23 and 30. The same restrictions will be in place for each escort.
The convoys are expected to leave the harbour at about 8am and will continue through Buckie on Commercial Road, Freuchny Road and March Road. The shipments will then move to the A98 Fochabers road ahead of turning on to the B9016 and A96 before arriving at Blackhillock.