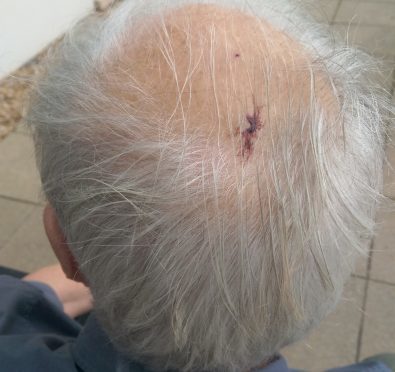 A Moray pensioner left bloodied by a gull which swooped on him outside his home has warned the "vicious" birds could kill a child.
The Elgin resident needed medical attention after the bird clawed at his scalp yesterday morning while he was unloading his car.
Now the retiree, who does not wish to be identified, is calling for action to be taken against the birds, fearing the consequences could prove catastrophic if one attacked a toddler.
He said: "I was going into the back of my motor when it struck me. I couldn't believe it had happened – it was just bang and it hit me.
"It's done enough damage to my head but if it had been a young toddler then it could have been extremely dangerous – maybe fatal.
"It's been getting worse for years now, ever since they started nesting in the towns. People never fed birds like that before.
"Something needs to be done against them when they're sitting on their nests at the end of May. It's the only way to control them."
The Bishopmill resident was left with a three-inch cut in his scalp that needed to be cleaned with disinfectant to protect against infection.
His account came as a councillor revealed he had suffered a similar attack yesterday while out campaigning.
Last year Moray Council considered a range of measures to fight back against the territorial birds, including using drones to spray oil on eggs in nests and enlisting a hawk to patrol rooftops.
However, the authority stepped back from taking action due to the costs involved.
Last night Elgin City South councillor John Divers revealed his own recent experience.
He said: "I was delivering leaflets for the by-election and it just came down from the roof and went right for my head.
"Interestingly, I have not had the same level of complaints as previous years though. Normally I have had a lot by now. Maybe their numbers are declining.
"It's the sort of problem that isn't going to go away though. We've tried to do stuff with the council homes in the past with spikes but they have never really worked."
Moray Council was invited to comment about bird control measures but did not respond.