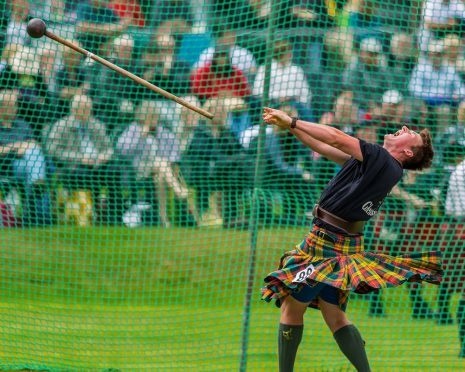 For the second time in as many weeks, the centre of Forres came alive with the sound of pipes at the weekend.
About 4,000 people congregated at Grant Park for the 89th running of the Forres Highland Games event.
Fascinated spectators from all across Europe joined locals among the crowd which thronged into the arena for a packed programme.
Some visceral displays were in evidence during the heavy events with competitors from New Zealand and Australia entering the traditional contests.
In the piping competition, there was a poignant salute to Elgin and District Pipe Band's drum major Frank Munro, who was making his final appearance at the games.
There was also a show of respect to the Buckie and District Pipe Band, who were recognised as the best turned-out group for Saturday's games. Meanwhile, Strathisla Pipe Band won the best marching category.
Kenny Wilson from Moray Road Runners set a searing pace in the 10K road race – finishing well ahead of the field with a time of 31 minutes and 11 seconds.
Oban's Murdo Masterson claimed top honours by winning the junior heavy competition while Elgin dominated the tug o' war competition.
Outside the arena, 39 Engineering Regiment from Kinloss Barracks ran a series of challenges, which provided children with a flavour of life in the army.
Youngsters gained the opportunity to take the controls of a digger to delicately drop footballs into a bucket as well as using metal detectors to search for hidden objects.
Chieftain of the games, Alan James, managing director of local firm AJ Engineering, marvelled at the phenomenal displays from the participating athletes.
He said: "The highlight for me was going round and meeting all of the competitors and seeing how much they enjoyed taking part.
"The whole community gets behind the Forres Highland Games and it was thoroughly enjoyable to see the displays in the arena.
"As chieftain, I had a slight schedule to follow, but there were so many things going on that I had a job of keeping up with it as I went round."