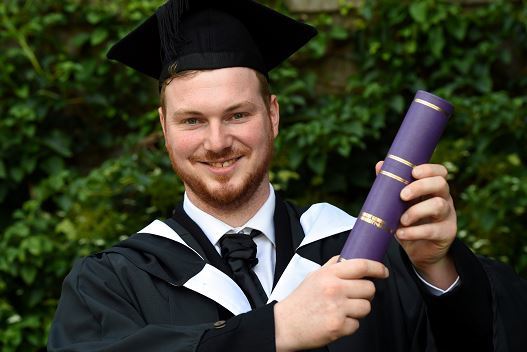 An ambitious Moray man is celebrating his second degree and looking to the future, after graduating from Robert Gordon University.
Stuart Angus graduated with a BSc (Hons) in physiotherapy yesterday, but this is not the first degree success for the Keith student as it follows his studies in sport science and health at Dublin's Institute of Technology in Tallaght.
The 29-year-old said: "During my time in Dublin, I received physiotherapy for some sports-related injuries and also shadowed physiotherapists alongside my degree work. My interactions with them piqued my interest and got me interested in becoming a physiotherapist myself.
"I wanted to move back to Scotland and when I saw the top facilities at RGU, alongside the placement opportunities and job prospects, I was immediately drawn to the university."
Stuart undertook a number of placements as part of his degree at RGU, each designed to give him the skills and experience needed to complete his course and successfully transition into the professional world of physiotherapy practice.
These placements included working in the orthopaedic ward at Dr Gray's Hospital in Elgin, caring for the elderly in Dundee's Royal Victoria Hospital, working with outpatients at Arbroath Infirmary and a placement in the Duke of Cornwall Spinal Treatment Centre in Salisbury District Hospital.
This breadth of experience has served him well and upon completing his studies he was offered a role as a rotational physiotherapist within NHS Tayside.
However, he has some other aspirations in mind for the future and explained:
"I am delighted with landing this job at NHS Tayside and I look forward to getting some rotation experience as a physiotherapist.
"That being said, my main hope is that I can put my degree to good use for the army in the future."
Two of Mr Angus' brothers are currently serving in the armed forces and he aspires, once "fit enough" to enter an officer training scheme.
With such a promising future ahead of him as a physiotherapist, Stuart feels like he can be proud of his achievements and his time at RGU.
He said: "I think the main highlight of this degree would be all of the great friendships I made over the years and the memories I'll hold long after graduation day."