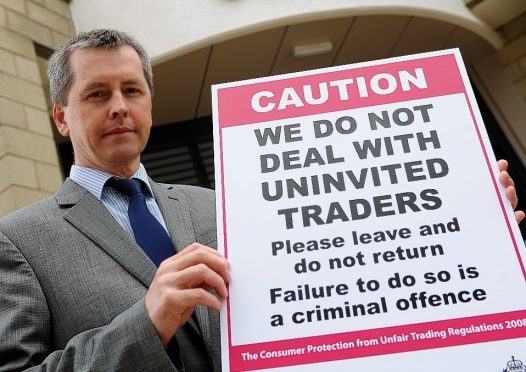 A Moray couple have been swindled out of £10,000 by bogus workmen claiming to have "leftover tar" from a nearby council job.
The pair, who did not wish to be named, contacted the council's trading standards team after being deceived by unscrupulous tradesmen who had originally offered to improve their driveway at a discount rate.
The couple agreed to a "small amount of work" being carried out, after the men lied about having excess tar from a Moray Council job.
But the rogue workers – who actually had no affiliation with the council – ended up covering their lengthy drive in a shoddy substitute material, before issuing extortionate demands for payment.
It is understood that the couple eventually handed over the huge sum only after becoming frightened of the consequences if they refused.
Yesterday, the local authority warned that those believed to be responsible are still in the area and urged residents to be on their guard.
Trading standards manager, Peter Adamson, said: "We believe these people are approaching residents in rural areas and stating that they have a small quantity of tarmac left over from a nearby council job.
"In this particular case, it was agreed that a very small area be treated but the individuals took advantage of the situation and carried out a shoddy job on hundreds of metres of driveway by putting down bitumen and chippings, a cheap product vastly inferior to proper tarmac.
"We understand that other similar work has recently been carried out in the area and we need to identify where that is.
"As part of the investigation, our officers returned to a driveway that had been treated last year and were amazed to find no trace of the surface that had been laid then.
"The roadway is covered in potholes and is in a worse condition than ever – at a loss of many thousands of pounds".
A joint investigation alongside the police is now under way, and trading standards officers are hopeful that people might be able to help the inquiry if they have been approached in a similar way.
Mr Adamson added: "This is the latest example of what can happen when scammers pounce on the unsuspecting in our community."
Residents with any information should contact Moray Council on 0300 1234561.