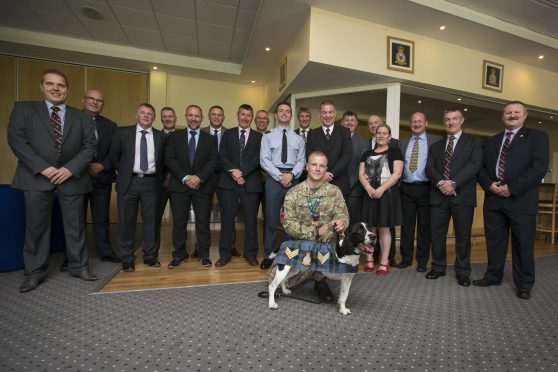 Ben Hendry
A three-legged dog will soon be barking orders at RAF Lossiemouth staff after being made a "sergeant" at the base.
Spaniel Dee had to retire from sniffing out explosives as a military working dog after his front right leg was wounded and ultimately had to be amputated.
The injury brought a globetrotting six-year-career with the RAF to an end.
But staff at Moray's airbase were unwilling to part ways with their canine companion and have made arrangements to ensure that he continues to remain a part of life there.
Dee has now been crowned RAF Lossiemouth's official mascot – and promoted to sergeant along with it.
He was presented with his new official coat by the station commander, Group Captain Paul Godfrey, during a ceremony at the sergeants' mess and will now appear at official occasions as a representative.
Dee's handler, Corporal Adam Renison, said: "I'm sure he will just be his usual happy self, and not let his rank go to his head."
The spaniel was born in Holland in 2011 and joined the British Armed Forces at 16 months of age.
At that point, Dee began learning how to be an arms and explosives search dog at the Defence Animal Centre near Leicester.
One assignment brought him overseas, as Dee joined the No 4 RAF Police Squadron in Northern Ireland.
As one of eight search dogs, Dee became an "integral part" of the outfit's operations – which mainly involved locating bombs, firearms and ammunition.
But in 2014, while with RAF Lossiemouth's Police Squadron, Dee ruptured a ligament in his front right leg and the limb eventually had to be severed after attempts at treatment failed.
However, Cpl Renison noticed that Dee had become an asset to the station despite his injuries.
He said: "Dee has such a relaxed and happy personality that he helps Treacle, another of our working dogs, to de-stress in the kennels after her duties.
"So, whilst we can keep Dee in the kennels here at RAF Lossiemouth we will do."
Cpl Renison had to research military regulations to ensure that all of the correct paperwork had been completed to enable Dee to join the Sergeant's Mess.
He added: "I'll make sure he respects all of the military rules and regulations when attending any formal functions."