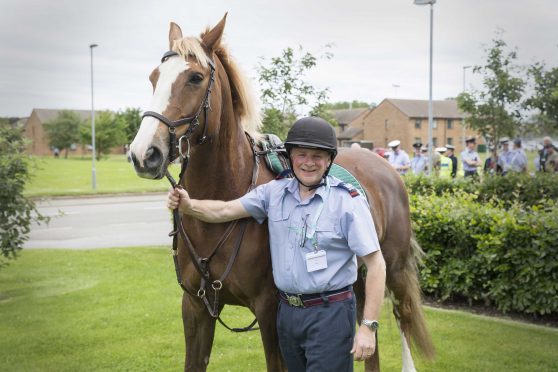 Despite serving in Afghanistan and the Middle East during a military career spanning nearly four decades, an RAF veteran has finally conquered his biggest fear on his last day in uniform – riding a horse.
Ken Prentice has stood down as a warrant officer at RAF Lossiemouth following nearly 38 years of service.
Generations of military tradition dictates that personnel stepping down from the post are escorted from their station on horseback to mark the end of their duties.
And, despite having a fear of the animals, Mr Prentice bravely saddled up on a large mare called "Red", measuring 16 hands three, before being paraded around the Moray base.
During his first-ever ride, the former warrant officer was led by Aneesa Parry from the Lossiemouth Saddle Club and Corporal Kerry Norgate as he waved farewell to personnel, including station commander Group Captain Paul Godfrey.
Before straddling the horse on the saddle, the former warrant officer stood on top of a chair before climbing aboard.
Horse handlers held Red still, so the nervous rider could size up the animal while settling his nerves.
Family and friends met Mr Prentice at the entrance gates to the base on his last day in uniform.
And despite stepping down from the role he has held for nearly four decades, the veteran is eager to continue serving in some capacity in the future.
He said: "I'm genuinely sorry to be leaving the Royal Air Force, but I hope that I can find a reserve role that will allow me the opportunity to continue to support the RAF.
"I was truly humbled to be led off the unit on what must be one of the largest horses that I have come across, and to see so many personnel present to witness the occasion.
"I couldn't believe that, in my last few hours, I had to overcome my biggest fear and mount such a large horse. I had no idea that anything had been planned as it was my intention to leave quietly."
Mr Prentice's career in the RAF began in November 1979. During his long period of service in the forces, he has been posted to myriad bases across the UK as well as in Germany, Belgium and as far afield as the Ascension Islands in the southern Atlantic Ocean.
He said: "I have enjoyed every minute of my time serving in the RAF.
"My personal highlights have been representing the UK within the Nato Counter Intelligence World, being appointed WO (warrant officer) Counter Intelligence Squadron, fulfilling the role of principal security adviser to the UK Maritime Component Command in Bahrain on three operational tours and being WO to No. 4 RAF Police and Security Squadron based at RAF Lossiemouth."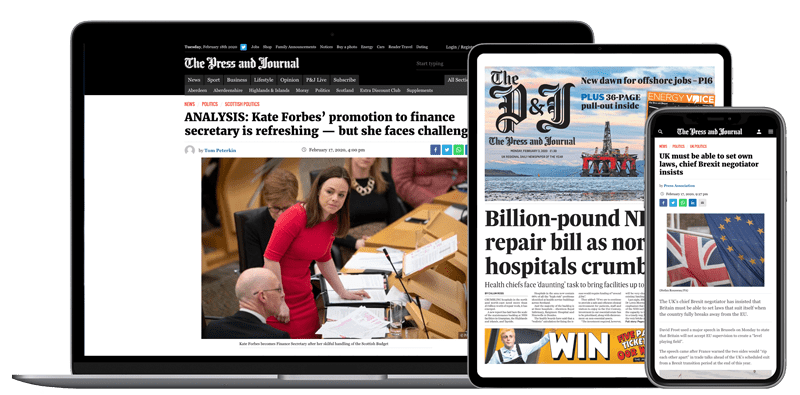 Help support quality local journalism … become a digital subscriber to The Press and Journal
For as little as £5.99 a month you can access all of our content, including Premium articles.
Subscribe