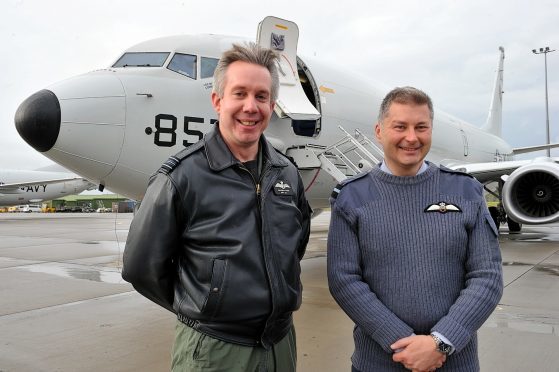 The US Navy will "routinely" base its spy planes at RAF Lossiemouth as the Moray base develops its own fleet tasked with patrolling the North Sea.
The UK Government has struck a "basing agreement" with America's Department of Defence which will regularly bring international flying aces to Moray.
Air Commodore Ian Gale, the senior officer responsible for bringing the Poseidon P-8A aircraft to Lossiemouth, hailed the deal as "further strengthening UK-US defence relations".
And it is hoped that working with American counterparts will enhance the skills of the freshly formed 120 Squadron, as crews prepare for all nine planes to arrive in Moray over the coming years.
Yesterday, figures emerged revealing that Nato allies had deployed nearly 40 maritime patrol aircraft to RAF Lossiemouth last year.
Opposition politicians claimed the statistics showed the Ministry of Defence (MoD) was reliant on "the goodwill of others" to protect the country.
But defence chiefs argued that working with allies was part of a "robust" strategy to defend the UK.
Last night, they stressed the upcoming influx of American planes was not a ploy to beef up resources.
A spokeswoman said: "The basing agreement with America was signed by Harriett Baldwin, Under Secretary of State for Defence Procurement.
The first of a fleet of nine of the Boeing planes is expected to touch down at Lossiemouth next year.
Its crews will work closely with American counterparts in an effort to "deepen defence cooperation" in the North Atlantic by sharing support bases.
Ms Baldwin said: "The United States is our pre-eminent ally in global defence and collective security.
"This declaration is further evidence of how our two countries continue to cooperate and build mutual security, particularly in the North Atlantic region.
"The American Department of Defence and UK's. Ministry of Defence plan to cooperate closely on operation of their P-8A aircraft to ensure a coherent approach."
Air Commodore Ian Gale added: "This agreement will enhance the UK's maritime patrol capability and further strengthen UK-US defence relations.
"The arrival of the Poseidon P-8A in 2019 will provide the U.K. with significantly increased capabilities and bring hi-tech employment to Scotland and the wider UK."
Defence Minister Tobias Ellwood yesterday revealed that 37 maritime patrol aircraft – including planes from the United States, Germany and France – had been temporarily deployed to RAF Lossiemouth in 2016.
That number represented a 76% jump from 21 in 2015.
Labour argued that the UK had been left reliant on allies to patrol British waters, and blamed the scrapping of the Nimrod fleet at RAF Kinloss for the situation.
Shadow defence secretary, Nia Griffith, said: "As an island nation, the ability to patrol our own shores and protect our key military assets is absolutely essential.
"The Tories' decision in 2010 to cut up our Nimrod aircraft and sell them for scrap was a serious mistake, it now looks downright reckless."
However, the MoD said the number of operational flights in 2016 was lower than the previous year.
A spokesman said: "Eighty percent of the flights in 2016 were exercises and the actual number of operational flights was lower last year than in 2015.
"In 2010 there was a £38billion blackhole in the defence budget and difficult decisions had to be made, including scrapping Nimrod which was nine years late, £800million over budget, and had failed to produce one plane that was safe to fly.
"We work closely with our Nato allies on security in the North Atlantic and have robust force protection measures in place for our assets which we continually review."