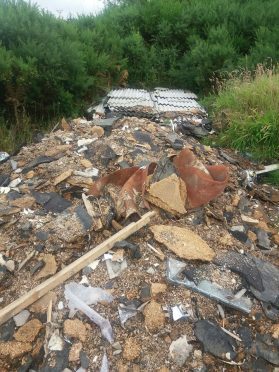 Fly-tippers dumping rubbish at beauty spots have been accused of tarnishing the "Jewel of Moray".
More than 50 tyres have been abandoned at a viewpoint near Lossiemouth beach among scrap car parts and aerosol cans.
Truck-loads of asbestos have also been discovered at secluded spots near Spey Bay and at Duffus.
Last night Moray Council revealed the blight was becoming more common across the region with larger and larger piles of rubbish being found.
Community leaders have condemned the practice as "selfish and irresponsible", putting the burden on the public purse for the clear up costs.
The authority spends about £15,000 every year on clearing up abandoned goods, including fridges, washing machines and scrap.
Officials are currently examining the asbestos to determine whether specialist contractors are required so the mess can be disposed of safely.
Moray Council's convener James Allan said: "It's awful. Lossiemouth is known as the Jewel of Moray because of it's beauty – that's why tourists always come back.
"It's disgusting that people decide to treat it that way. It's not acceptable, people should be taking pride in their community – not dumping rubbish in it.
"I know the council will be trying to track down who did it and deal with them accordingly."
About 5,000 deaths a year are linked to asbestos in the UK. Inhaling fibres from the material when it is disturbed can cause several diseases related to breathing.
Specialist teams from the authority are currently evaluating the material to determine what protective clothing could be used for the removal operation.
Yesterday community safety officer Willie Findlay explained that options open to them range from gloves to suits and masks – depending on how "shredded and dusty" the material is.
Maureen Burrows, chairwoman of Lennox community council, called on locals to keep a vigilant watch on notorious fly-tipping spots in efforts to catch the culprits.
However, she does not believe that current penalties act as a strong enough deterrent for repeat offenders.
Mrs Burrows said: "It's looks like they've planned this and known exactly what they are doing. Disposing asbestos costs money, that's why they've done it, to save money.
"It's just such a shame they're prepared to put people at risk for the sake of being irresponsible, selfish and lazy.
"The problem is that we all have to pay for the clear up costs. The council is cash-strapped as it is without having extra burdens.
"The fixed penalties aren't high enough. It causes a real problem in some of our most beautiful areas."
Yesterday Mr Findlay encouraged people that witness fly-tipping to report it to the council with details of any vehicles involved.
He said: "It's a growing problem in Moray. Our wardens can issue fixed penalties of £200 but recently we've been seeing bigger loads being dumped – some containing dangerous materials like asbestos.
"Over the last few weeks we've had reports of tyres dumped in Lossiemouth and asbestos being dumped in Duffus and Spey Bay. We're taking part in a meeting shortly to discuss how we can address this escalating concern."
Fly-tipping can be reported to Moray Council by e-mailing waste@moray.gov.uk