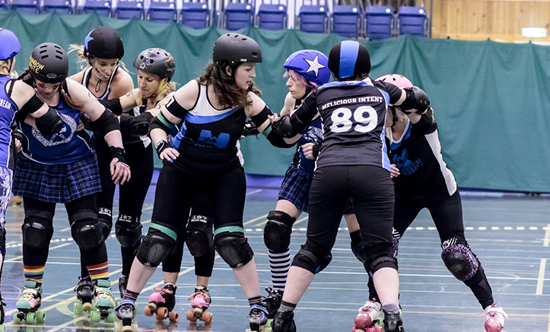 Elgin's roller derby team is appealing for new players to help it to field a team.
The team won its first game in April this year, but were forced to call on reinforcements from Inverness and Aberdeen to put together a full team of 14 players.
In an effort to attract new members, the Helgin Roller Derby club is holding an open day later this month for people of all abilities to try the sport.
The sport – which originated in Texas – has grown in popularity in Scotland in recent years.
And the area has produced a potential international star – with Daniel O'Neill, from Forres, in the selection squad for the Scotland team for the 2018 world cup.
Matches are contested between two teams, who compete against each other in matches which last for an hour.
Teams split in to the roles of jammers and blockers and compete to earn the most points.
The jammers have to fight their way through the pack of both team's blockers, who are attempting to stop the opposing team's jammers from getting through the pack.
Melanie Newbould, the Helgin Roller Derby captain said: "We need more skaters.
"We were optimistic that 2017 was our year to start competing, but we've just been unlucky with numbers.
"We're a co-ed team, so open to people of all genders, and no skating experience is necessary – we have a programme of sessions that teach the basics of skating and gradually progress skaters to competing as part of a team."
The trial will take place at Elgin Sports and Community Centre on Trinity Road from noon-2pm on August 27.
It will be free of charge, with all kit – apart from a mouth guard, which is recommended – provided.