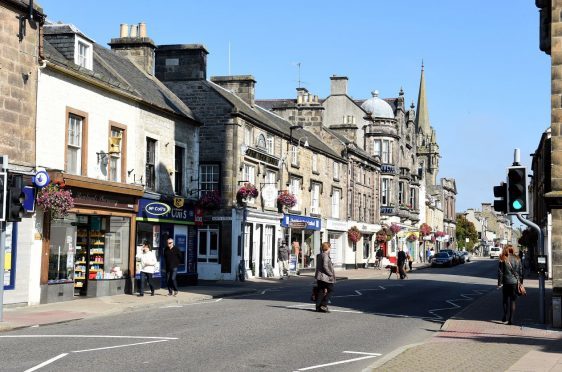 Two Moray town centres are going head-to-head to be named the most beautiful in the country.
Elgin and Forres have been shortlisted for the coveted top 10 most scenic high streets in Scotland title – but need local residents to help them win.
Judging panels travelled the length of the country to draw up the shortlist, but the winner will be decided by a public vote.
Yesterday representatives from both towns extolled the most colourful parts of their high streets in an attempt to gather support.
Judges from Keep Scotland Beautiful and the Scottish Towns Partnership praised Forres for having a "ribbon of colour" stretching through more than 100 flower beds, containers and hanging baskets.
And Aaron McLean has no doubt that the spectrum of plants is one of the high street's most prominent features.
The Forres councillor said: "The flowers would be the main thing. There is an amazing amount of work put into them from the community.
"The heritage side is also very important too with the Tolbooth and the Falconer Museum. We've had a few new shops pop up too recently to make it very vibrant.
"Grant Park isn't far away either, which would be a stunning addition to any town centre in the country."
The Moray towns face competition from across the country from rivals including Banff, Fort William and Falkirk.
Elgin's medieval heritage stretching back 1000 years was highlighted by the judges as well as the pedestrianised Plainstones and links to nearby Cooper Park.
Alistair Kennedy, chairman of the town's community council, believes recent additions have also improved the centre.
He said: "St Giles Church is iconic, it dominates the high street and makes it instantly recognisable.
"The new statues have been a real talking point too though – they've certainly added something. In years to come you'll be hearing people say 'I'll meet you at the Dandy Lion.'
"There was quite a debate about pedestrianisation but it has opened up the area to host quite a few events."
Votes can be made online at www.scotlandstowns.org/mbhs_vote