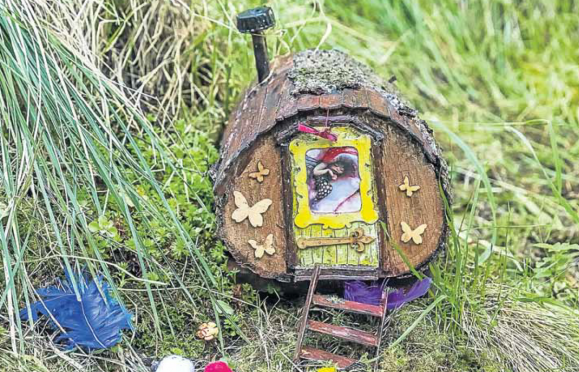 A mystery fairy garden has popped up in Dufftown, with people flocking from all over to see the magic.
Locals have been thrilled by the sudden appearance of 10 buildings which have been crafted out of wood.
And visitors from all over the world have visited the site to experience some of the magic for themselves.
The mystery creator, who wants to remain anonymous to keep the magic going, said he had been enjoying seeing and hearing people talking about his creations.
He said: "People from all over the world have visited, everybody is talking about it – it has been overwhelming.
"There's not enough magic in the world. It's something for the kids, and the parents love it too."
Each house takes the maker about five hours to produce, with no set plan followed.
Buildings which make up the village include two rival pubs – the Birchwood Inn and the Royal Oak – as well as several houses.
And the creator revealed a special plan to create fairy houses which would not find their way to the village.
The group's social media page received a message from a mother asking if the village would be accessible for her daughter in a wheelchair.
With the location being unsuitable, the craftsman decided to make a special fairy house for the girl.
The good Samaritan said: "I said sorry and I felt so bad about it, I said what I can do is make daughter a house of her own."
And a special fairytale house has been made to be delivered as a surprise.
Councillor Louise Laing praised the project which had got people talking about the town.
She said: "Word seems to be getting out, people are talking about it not just in Dufftown.
"One of my fellow councillors mentioned it in Elgin today.
"It's brilliant, they must have some imagination."
The village can be seen at the Giants Chair in Dufftown.