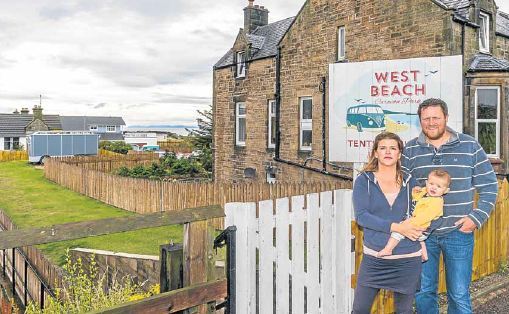 The owners of a popular holiday park have vowed not to move an "unauthorised" caravan on their site – even if they are ordered to.
Moray Council is considering enforcement action against Hopeman's West Beach Caravan Site following a complaint about a holiday home.
Site owners Barry and Ruth Scott maintain the touring accommodation is within the area covered by their site licence.
But authority officers concluded that planning permission has never been granted for the land following an investigation sparked by a complaint.
Today Moray Council's planning committee will consider enforcement action to get the caravan towed away unless it is moved or an application is submitted for it within four weeks.
Yesterday Mr Scott dismissed concerns the caravan intrudes on the privacy of nearby homes.
He said: "There's only one little window that faces that way – I don't know why anyone would want to look out of it either. There's decking outside it but it faces the other way.
"If you live next to a caravan park then you have to accept that you're going to see caravans.
"The council has tried to say it's away from the main body of the park but there's other caravans just yards away from it.
"If they take enforcement action then we'll just appeal it. We can't lose."
Mr Scott added that he currently has permission for 151 caravans on the Hopeman coast – but only has 124 set up at the moment.
It is understood the caravan, which is sited on a footpath into the park from Harbour Street, has never been slept in overnight and is only used for day trips to the beach.
The holiday park is considered to be "major tourist asset" for Hopeman by Moray Council.
Mr Scott added: "We've been jam-packed this summer, you can imagine the financial benefit for the village.
"This is just one caravan. We could move it to somewhere else but why should we? Reasonable people wouldn't have a problem with it there."
In a report ahead of today's meeting, planning officer Stuart Dale quoted policies stating that developments on the land should be "sensitively sited".
He said: "It is considered that formal enforcement action is necessary in this instance to protect the amenity of adjoining properties in terms of loss of privacy and overlooking."