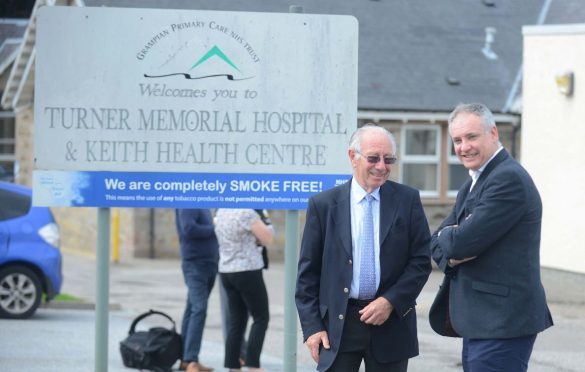 Doctors at a Moray health practice have backed a campaign calling for new facilities to replace tired buildings more than a century old.
Staff in Keith have been waiting for upgrades to the dilapidated 19th century Turner Memorial Hospital and health centre for a decade.
Parts of the "outdated" building are inaccessible for those in wheelchairs, while the 27-year-old X-ray equipment is "likely" to fail with the room unable to host a modern equivalent.
Campaigners have warned consultancy rooms risk being sealed off unless a replacement building is built urgently.
Now a petition to fund new buildings has been launched, with 1,000 people so far backing the call to the Scottish Government.
Among those supporting the campaign are the doctors who work at the surgery.
Dr Clare Green, a full-time partner at Keith Health Centre, said: "I've been here for 17 years and for a least the last 10 of them we have been taking about a new facility.
"But we've not really got any further forward. We've looked at sites that haven't been suitable and then there's been the case of needing business plans.
"The current buildings are just outdated now."
But last night NHS Grampian said while they were "sympathetic" to their plight, they had "other priorities" ahead of the Moray town.
Staff at the surgery believe their calls have been "sidelined" for years while projects elsewhere in Moray have been completed.
Dr David Rathband said: "At the moment we've got a situation where disabled people can't get into some of the consultancy rooms. They're just not up to modern standards.
"The X-ray equipment is likely to fail and the room it's in is unable to host newer equipment.
"The lack of car park spaces has been a long-standing issue too."
The hospital, which still uses some of the original buildings built in 1880, is currently home to a 19-bed ward, predominantly used for patients discharged from Elgin or Aberdeen ahead of returning home.
Last year the ward was used for 6,130 bed days while there were 1,293 visits to the 24-hour minor injury unit.
The health centre was built in the 1960s, was most recently extended in 1985 and serves 7,300 people.
Leon Stelmach, chairman of the practice's patient participation group, belives the buildings are no longer able to be maintained by "patching" them up.
He said: "It has served its purpose now. It is much-loved because of the quality of the staff but if people were to go to Lossiemouth or Forres then they would see what they're missing out on.
"It makes it far more difficult for the doctors to do their job. It's just so inefficient.
"We've got to the point now where it's really a priority for some action. Facilities have been built elsewhere and now we should be at the top of the list.
"If nothing's done then we could end up with consultancy rooms out of bounds due to flooding or the electrics failing. It's just been continually patched up for years."
Moray MSP Richard Lochhead intends to press the NHS to agree new buildings in Keith are a "priority" and for costs to be drawn up.
He said: "It's very clear the community, local GPs, nurses and practice staff have a very powerful case.
"If we're to deliver more health care in the community as well as attracting the best staff to work there then we need a fit-for-purpose environment and infrastructure."
A spokeswoman for NHS Grampian said: "Keith Health Centre in on our list of primary care premises requiring more appropriate facilities.
"We are sympathetic to exploring options, but we currently have other priorities that require solutions ahead of Keith."