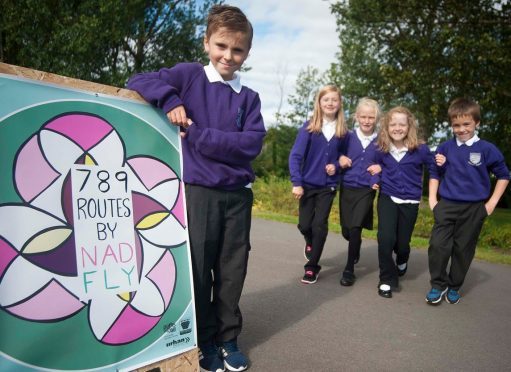 Colourful signs aimed at boosting the number of children walking to school are returning to Elgin.
Earlier this year the creative designs were put up in the south of the town to create six walking routes.
Now the first of the signs have been put up in the north of Elgin to encourage even more youngsters to get out and about.
Figures collected by Moray Council have found the impact of the colourful creations, known as glyphs, boosted the amount of pupils getting active.
A total of 91% of pupils at New Elgin Primary School either walked, cycled or used a scooter to get to class after the signs were put up, compared to 69% beforehand.
The increase at Greenwards Primary was from 80% to 84%.
Yesterday, Glasgow-based group Nadfly took pupils from Seafield and West End primary schools on a tour of the newest route through Cooper Park and over the River Lossie.
The aim is to get walkers to rediscover quieter paths and cul-de-sacs away from more busy roads.
Creative Director Caspar Wilson said: "We had really incredible engagement with the kids in the south of Elgin. They really got involved with it and got out walking.
"It's not just about children though. I know one man who used the routes as he recovered from a hip replacement. He found it a really good way to measure how far he'd walked."
The first route in north Elgin, which features a kaleidoscope image on green signs, is now in place on lampposts.
Another two set of signs will be unveiled next month and a further three in November.
A night time walk is being planned so the reflective glyphs can be seen in their full glory when lit up by torches.
Martin Collins' P4 and P5 class at Seafield Primary have been named as "ambassadors" for the school's inaugural route.
He said: "We really want to encourage children out of the cars and either walk, cycle or take a scooter.
"This is a great initiative because they really get excited about the 'treasure hunt' aspect – they find one sign and then want to find the next one.
"It's a bit of fun that the pupils really get involved with and tell their friends about."