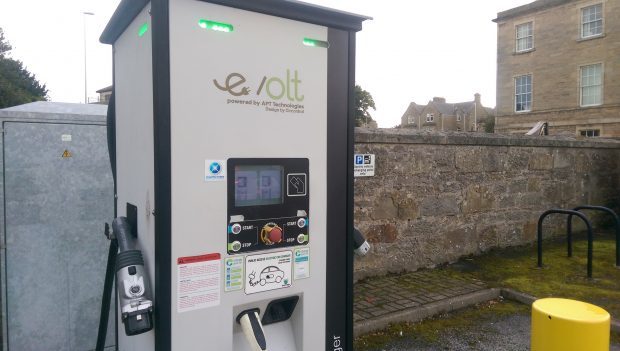 The use of electric cars remains mixed across the north and north-east – with some charging points booming but others barely used for months at a time.
New figures obtained by the Press and Journal show a patchy picture of take-up of the new technology across the area.
While plugs in Aberdeen have been used more than 31,000 times since they were first installed in October 2013, the technology has only been used 829 times in Moray since December 2013.
The charger at Station House in Aberlour was used just once between January 2015 and April 2016 and the Cluny Place sockets in Buckie were only turned on twice between November 2015 and June 2016
The Scottish Government has pledged to ban the sale of petrol and diesel vehicles in 15 years.
However, the uptake of motorists using publicly accessible charge points remains patchy, according to responses to a series of requests under freedom of information legislation.
Last night Graham Leadbitter, co-leader of Moray's SNP group, warned the technology would not become common-place until infrastructure was improved.
He said: "There's clearly a movement towards greater use of hybrid vehicles. More are being advertised and sold every day.
"There will obviously be a transition period but we need the infrastructure so that people are confident they can find charging points at convenient locations through the country.
"It's improved significantly in recent years but one issue remains using them in rural areas where journeys are longer and drivers are worried about the range and being able to find chargers."
The 20 charging locations in Aberdeen have been used 31,660 times since the first was installed and 16 sites in Aberdeenshire have been used 14,396 times since September 2013.
The 20 charging points in the Highlands were used 4,488 times between August 2015 and August 2016.
There are only seven sites with chargers in Moray.
Usage has grown rapidly in Laurencekirk, Aberdeenshire, from 17 in July 2014, to 61 in July last year and 230 in July this year.
And in Aberdeen the Sclattie Park car park outlet has seen usage rise from 68 uses in July 2015 to 113 in the same month this year.
Sandra Macdonald, vice-chairwoman of Aberdeen and Aberdeenshire transport body Nestrans, is proud the north-east is "leading the way" in uptake.
She said: "If we want to be the energy capital of Europe, we have to lead the way in all forms of energy.
"Oil and gas will still be around, but the ways we power our transport will need to change.
"If we're already having success with hydrogen buses in the city, then I can't see why we won't see an increase in the uptake of electrical vehicles going forward."
Highlands and Islands MSP John Finnie, the Green party's transport spokesman, has called for more work to be done to investigate new technologies for buses to reduce congestion instead of supporting the "wealthy automotive industry".
He said: "It's evident the varied success of electric cars is not simply about the supporting infrastructure of charging but, at this stage of development, also about their price and range.
"We welcome any move away from polluting petrol and diesel cars but would wish to see more investment in electric buses, which could and should be an important element of rural travel.
"Additional capital has been directed to replacing the polluting bus fleet and I hope northern operators will take full advantage."