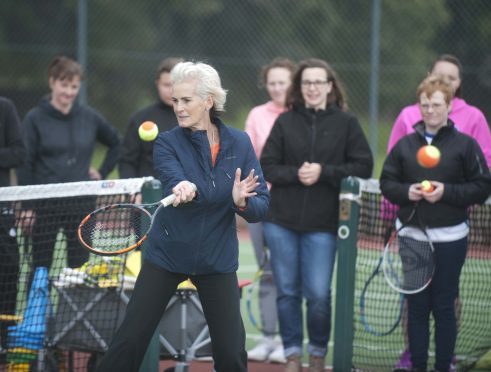 Less than a day after one of her sons added another grand slam title to the family dynasty, Judy Murray was back on court, helping to nurture the next generation of talent.
The celebrated tennis coach missed watching Jamie lift the mixed doubles title at the US Open – his fifth major honour – while she travelled to the north of Scotland.
And yesterday, she was the special guest on Speyside at Rothes Tennis Club, helping develop the next generation of coaches, who are capable of unearthing the youngsters who might follow in the footsteps of Jamie and Andy Murray.
Members prepared a tennis court cake for Mrs Murray, which was served to her beneath a picture of Andy, who has twice won Wimbledon and triumphed on two occasions at the Olympics.
And the coach expressed encouragement at seeing so many local players take to the courts to learn to improve their game.
She said: "Clubs like these really are the lifeblood of the game.
"It's brilliant for communities to have great facilities, like these three hard courts, in their back yard. It can only help to encourage more players.
"I'm going to help them look at how to run different competition formats. You'll probably find that in this area, and other rural locations, there is an awful lot of travelling for events.
"So it's important to look at how to play the game competitively."
Nearly 50 members of the Rothes club, as well as neighbours from Lossiemouth, took part in a series of skill games.
Players bounced balls at each other, caught them in cones and rolled them under gates.
Earlier in the day, Mrs Murray ran similar sessions for enthusiasts in Nairn.