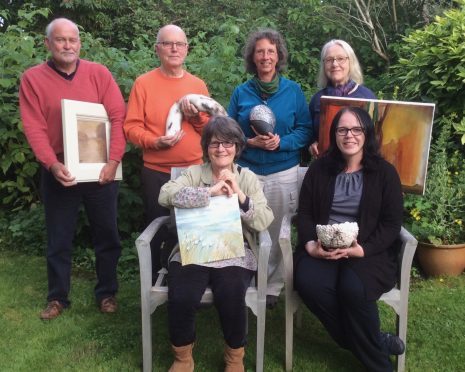 Artists across Moray are opening the doors of their studios to showcase the blossoming talent in the region.
Crafters are revealing the techniques they use to create their artwork so that visitors can get an insight into the inspiration and processes involved.
Nine artists in the west of the region have banded together to orchestrate a trail for tourists through Forres and villages including Findhorn, Dallas and Rafford.
Producers, including painters, sculptors and crafters who use materials as varied as wood, willow and leather, have been included in the line-up.
Jill Sutherland, from Dallas, makes hand-built ceramics at her Forres studio and yesterday revealed interest had more than doubled since a similar event was held last year.
She said: "A lot of the artists on the trail have met each other through running events like this in the past. We're spread out a little bit, but we come together to promote ourselves.
"The craft scene is definitely getting bigger at the moment. People like to look for that locally-sourced product from Moray instead of just buying it online.
"We've seen a lot of people through the doors already. Visitors are certainly making a day of it, so they can see as much as possible."
The visits are being offered as part of North East Open Studios, which runs until Sunday, September 17.
More information can be found at www.northeastopenstudios.co.uk