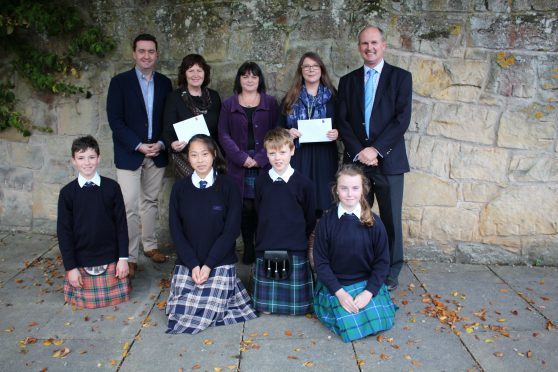 The proceeds from a prestigious Moray school's Highland Games gathering have gone towards improving the lives of some of the area's most vulnerable people.
The takings from Gordonstoun's traditional extravaganza have been shared out between domestic abuse charity Moray Women's Aid and the Forres Osprey Trust – which provides free transport for infirm or disabled individuals.
Representatives from both charities visited the school on the outskirts of Lossiemouth at the weekend to collect donations of £3,000 each.
Headmaster of Gordonstoun's Junior School, Robert McVean, and chairman of the Junior Highland Games, Ewan MacGregor, were on hand to greet them.
They were joined by some pupils who had donned kilts and tartan skirts for the occasion.
Mr McVean thanked the attendees who donated cash during the games event at the end of April.
Diane Milne, from Moray Women's Aid, said she was "delighted" that the group had been chosen as a beneficiary.
The charity, which operates from Marleon House in Elgin, launched a funding crusade last year in order to continue its services.
The group has been struggling to make ends meet since the council cut its funding by £18,000 in 2013.
The outfit receives about 700 calls from vulnerable women every year, and provides hands-on support to 300.
A spokesman for the Forres Osprey Trust added: "It is through the support of the community that we are able to raise funds for providing free transport for the elderly, infirm and disabled of Forres and the local area.
"We are therefore extremely grateful that Gordonstoun's Junior Highland Games, are gifting us such a substantial amount of money for us."
The games event brought spectators from all over Moray to the playing fields at Gordonstoun, and featured 11 teams from local schools.