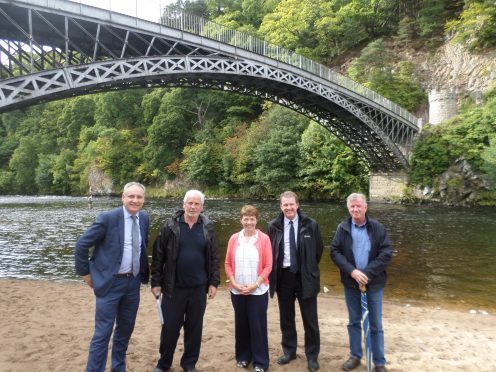 Heritage chiefs have pledged to investigate ways to help restore and preserve an iconic piece of Moray architecture.
The old crossing over the River Spey at Craigellachie is the oldest cast iron bridge in Scotland, being completed in 1814.
However fears have been raised that the structure could fall into disrepair without a restoration project.
Campaign group Friends of Craigellachie Bridge has now met with Historic Environment Scotland (HES) to press for support on the project.
Group secretary Brenda Cooper said: "We're passionate about the bridge and its importance to Speyside and the wider Moray area, but we're also very aware of the importance of the bridge to Scotland's history.
"There's quite a bit of money needed to be spent on its restoration and we're very keen to work with organisations to get the funding to make this happen.
"It's such an iconic structure that is known around the world. I really hope we're able to get things moving now to preserve it."
The campaign group formed in 2015 to celebrate the 200th anniversary of the crossing, which is symbolically linked with the whisky industry.
The engineering significance of the bridge has led to it being recognised by the American Society of Civil Engineers and the Institution of Civil Engineers.
Moray MSP Richard Lochhead has backed the group's plans to attract funding for the project.
He said: "This iconic bridge is a masterpiece of engineering and design, therefore it's important that the group's vision is supported.
"It's important that all groups work closely together to ensure that funding can be sought so this structure can be restored.
"It's a hugely important tourist attraction for Speyside with a massive amount of potential."
Alex Paterson, chief executive of HES, added: "It was great to meet with Richard and the Friends of Craigellachie Bridge, and to learn more about its design and history.
"I'll be looking at how Historic Environment Scotland can best encourage the Friends' efforts with advice and support on how to take conservation and upkeep of the bridge forward, and I look forward to hearing more about their plans."