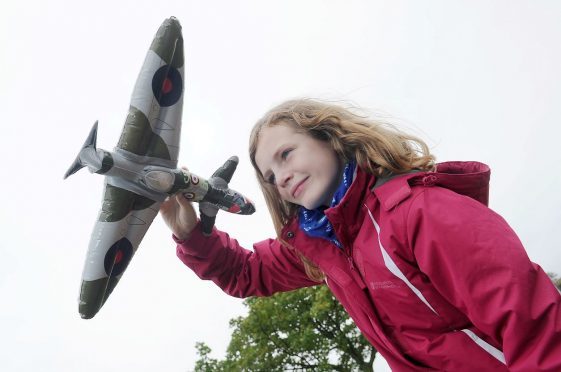 Hundreds of Moray school children have sampled what life is like supporting the country's frontline air defence.
Children from across the region have visited RAF Lossiemouth to inspire them to choose a career in engineering or science.
Personnel from the air base showcased the wide range of skills that are involved in keeping the UK's most advanced fighter jets in the air.
More than 900 P6 and P7 pupils got to experience what it was like to fly faster than the speed of sound, put together aircraft engines and used maths to work out how to move planes on the apron.
However, the highlight for many was taking control of a powerful hose with the RAF's finest firemen to put out real flames.
New Elgin Primary School pupil Aidan Spence, 11, said: "We've been learning about the fire triangle – what makes a fire and how to put it out.
"We've also learned that lots of machines can now be used to do work that used to be done by hand."
The event aimed to develop the children's skills in science, technology, engineering and maths (Stem) subjects.
As well as gaining the chance look at what is needed to join the front line, the school pupils also learned about other roles in the air force.
The young visitors had to become detectives to find fingerprints on a door in a mock-up crime scene.
Diageo, the University of Highlands and Islands and the Royal Northern Countryside Alliance showcased career options outside of the RAF.
Sarah Riley-Evans, community development officer at RAF Lossiemouth, said: "New aircraft are coming to the base and we want children to see that as a huge opportunity for them.
"There will be training opportunities as part of that for the next couple of years and into the future. We want them to see it as a platform to help build a career."
Moray Council education officer Maxine Scott added: "Moray traditionally has a low-wage economy, so we want to show there are real good quality jobs out there.
"Working in the RAF isn't all about flying planes – there are a lot of other skills on the base, whether it's dentists or whatever.
"There is a lot in Moray to encourage our young people to stay here."