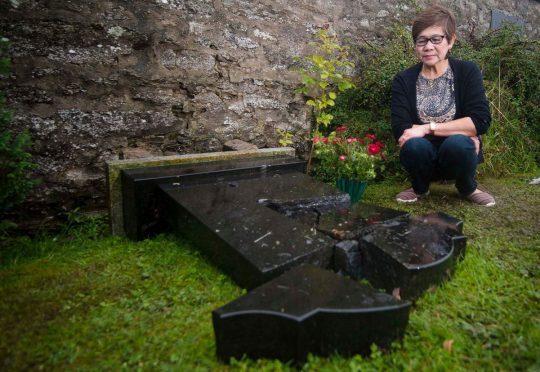 A devastated Moray widow faces a £1,400 bill to replace her husband's gravestone after vandals smashed it into pieces.
Aida Stewart, from Keith, went to the Broomhill Cemetery in the town for a regular visit to remember her beloved Joseph.
But when the 67-year-old saw the lovingly-maintained tomb, she was heartbroken to see it had been wrenched from the ground and cracked beyond repair into at least five pieces.
Yesterday, the widow revealed she suspected ropes had been attached to the headstone to hoist it from the earth by using a vehicle.
Police believe a "heavy item" was used by "despicable" vandals to destroy the stone, which appears to have suffered an impact near its centre.
Mrs Stewart said: "I could see it as I walked through the cemetery towards it. I couldn't believe it. It's just so shocking, heartbreaking.
"I don't know what to do about it. I don't think it can be repaired and it will cost about £1,400 for another one.
"It's unbelievable, deliberate vandalism. It's so sad to see my husband neglected like this in death."
Newmill farmer Joseph Stewart died in May 2013 at the age of 93, following a brief spell in a nursing home.
Since then, his wife has been a regular visitor to the cemetery where he was laid to rest to lay flowers at his grave.
The granite stone has been left face-down in the grass while pieces that have been broken off the memorial lie next to it.
Visitors to the cemetery have suggested to Mrs Stewart that the damage may have been caused accidentally.
However, the Keith resident is adamant the act was intentional.
She said: "No other gravestones were damaged. There are tyre tracks next to it. It looks like someone's attached a rope and pulled it out with their car."
Investigating officer, Sergeant Krystle Ross, has urged anyone who spotted suspicious activity in the area to come forward.
It is believed the damage was caused between 2pm on Friday, September 15 and the morning of Monday, September 18.
Sgt Ross said: "Vandalism to headstones or memorial items is always extremely upsetting for families and is particularly despicable.
"I would ask that, if anyone recalls seeing anyone acting suspiciously in the Broomhill Cemetery or surrounding area over the weekend, they get in touch with us."
Anyone with information should contact police by phoning 101 or by calling Crimestoppers on 0800 555 111 to remain anonymous.