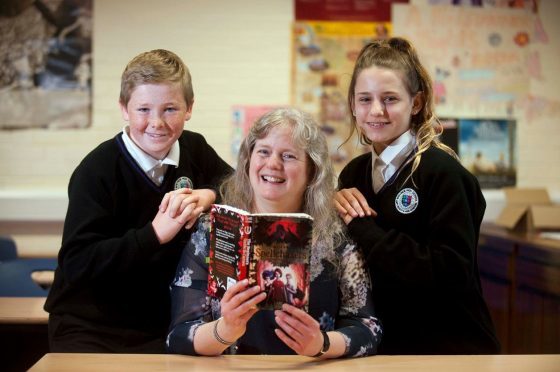 A Speyside author has returned to her former school to inspire the next generation of writers with tales of witches and shapeshifters.
Lari Don, who grew up in Dufftown, has run workshops for youngsters to help them create enchanting stories.
Yesterday the children's writer was back in her old classrooms at Speyside High School to try and light the creative spark of pupils.
And the author believes that living in rural Moray gives youngsters the natural environment to dream up weird and wonderful stories.
She said: "The folklore of Speyside, and the whole of the north-east, is absolutely amazing – there's so much history right here.
"There's so much to be inspired by, whether it's kelpies in the Spey or stories about witches and ghosts.
"My writing is inspired by the kind of things that I imagined as a child. I think it's really powerful for children to know that I have created ideas about where they live themselves."
Mrs Don's latest release, a trilogy entitled "Spellchasers", is set among fictional villages on Speyside.
Characters in the novels include a sphinx that lives among a pyramid of whisky casks and kelpies that live in the famous river.
During her visit back to the region where she grew up the author, who now lives in Edinburgh, also visited primary schools in Aberlour, Tomintoul and Knockando.
Yesterday, pupils at Speyside High School revealed Mrs Don's tips will help them create compelling and intricate descriptive tales.
Catherine Mellis, 12, said: "I wrote a story recently about people that have been looking for a lost piece of jewellery.
"I got some really good advice about describing everything a lot more to give it more depth."
Mitchell McGillivray, 13, added: "I learned a lot of new techniques, especially about creating characters and describing them a lot more to make them more realistic."