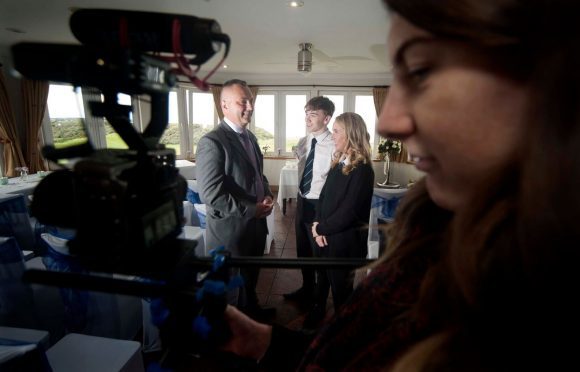 Moray school pupils have gone behind the scenes at some of the region's biggest firms to film recruitment adverts.
Students have been tasked with researching and creating videos to showcase the range of jobs available for youngsters near their home.
A total of 24 teenagers from Buckie High School, Keith Grammar School, Elgin High School and Speyside High School have scripted their own storyboards and are now shooting the final film.
During the process, which is being run by Developing the Young Workforce (DYW), the pupils have got an insight into how the engineering, food and drink and early education industries are run.
Tilly Stewart and Fraser Duncan, both S5 pupils at Elgin High School, visited the Skerry Brae Hotel in Lossiemouth to record the work of property agents CCL.
And the 16-year-olds were both surprised to learn that David and Coralie (CORR) Pickering, both directors of the firm, had both previously served in the Navy.
Tilly said: "For us, we wanted to appeal to an audience that is our kind of age – show people that they can get into work in Moray instead of moving away.
"There's definitely a lot of stuff I didn't know about. The people at CCL both have experience in the Navy – I didn't think that they would have gone through that."
Fraser added: "It shows that there are different paths you can take through your life. You can start with something and then change to something completely different."
Developing opportunities to retain young people in the area has been made one of the key ambitions for Moray's city deal bid.
The teenagers filmed Mr Pickering surveying the hotel before interviewing him about his life choices and what it is like to live and work in Moray.
As well as learning about the work the firms do, the school pupils also got experience working behind the camera with Elgin-based Northport Studios.
Education officer Anne Duncan said: "I'm really excited about everything that is going on in Moray at the moment – it's really vibrant at the moment.
"It's fantastic to see that our young people are prepared to pick up the baton themselves and run with it."