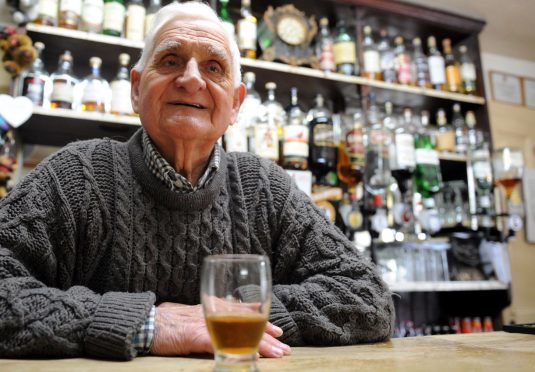 A "legendary" Speyside pub owner has died after working behind the same bar for nearly 60 years.
Joe Brandie continued to serve drinks at the Fiddichside Inn in Craigellachie until recently at the age of 88 – having worked his first shift there in 1959.
Mr Brandie, who trained as a cooper and previously worked a ghillie, met and fell in love with his late wife Dorothy at the pub when it was owned by her parents, John and Helen Smith.
The couple ran the cosy bar together for half a century.
The small inn, which is on the banks of the River Fiddich, is popular with tourists visiting Speyside from across the world.
Postcards of the pub, which also doubled as the couple's home, sell more than 500 copies a year.
Mr Brandie only took his first days off to mourn the death of his wife in 2009. The four days remained the only time he had spent away from the inn until he fell ill recently.
Tributes were sent from across the world on social media following the announcement of the popular licensee's death yesterday morning.
Many hoped the Fiddichside Inn would continue to offer a warm welcome to visitors with new faces behind the bar.
Jane Tweedie, chairwoman of Craigellachie Village Council, said: "He was a very special man and was hugely supportive of the community in any way he could.
"He was famed the world over and both Joe and his late wife Dorothy, along with their iconic wee pub, should be classed as national treasures."
Moray MSP Richard Lochhead said: "Joe was a great character and his sad passing marks the end of an era, given that he took over from his late wife Dorothy, who was Scotland's longest-serving landlady.
"Joe, Dorothy and the Fiddichside Inn all jointly share legendary status in Speyside and I'll always treasure memories of enjoying a dram at the bar and chatting to Joe about all kinds of things – from football to the history of the pub.
"Craigellachie won't be the same without him."