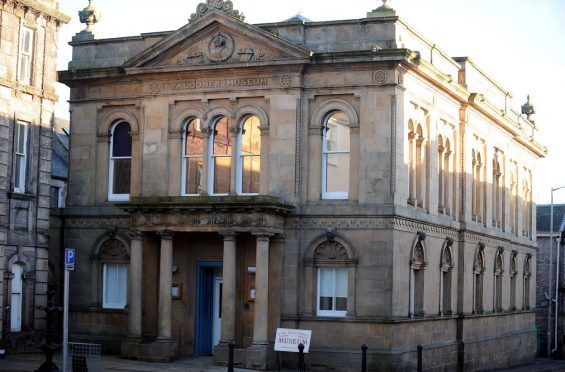 Historical artefacts held in Moray Council's vast museum collection could go under the hammer to raise money to keep the attraction running.
More than 50,000 items have been accumulated in the publicly-run archive over the last 146 years.
However, now some prized assets could be sold off to raise money to ensure future generations can still visit the last-remaining council run heritage centre, the Falconer Museum in Forres.
Officials believe auctioning off some of the most valuable items is "crucial" to attracting extra funding to offload the attraction to a dedicated trust.
Last night, the authority was pressed to ensure the most sacred items remained in public ownership in Moray for safekeeping.
But Moray Council leader George Alexander, who is also chairman of Forres Heritage Trust, believes it is important to know how much items in the storeroom will fetch.
He said: "I think it's a worthwhile exercise. Hopefully it will help come up with a sustainable model to run the museum service in a more economical way.
"The first thing the council has to do is though is identify what it actually owns. There are a huge amount of paintings in the store that the council is merely looking after.
"Another problem is whether it actually has any value. There are a huge amount of stuffed animals there. How much is a stuffed weasel worth?
"I'm a great supporter of heritage but we do need to make sure there is a viable business plan for it."
The Falconer Museum houses memorabilia from civic life in Forres dating back more than a century.
There are also archaeological artefacts dug up from sites in Moray and exhibits commemorating the history of education, industries and farming life in the region.
Dozens of visitors toured the museum's extensive storeroom at the weekend as part of Doors Open Day. Just over 6,400 people visited the galleries during 2016.
Councillors will be asked to approve approaching an auction house to investigate selling items from the collections when they meet for a full council meeting on Wednesday.
And Lossiemouth historian Don Stewart is eager to ensure that one-of-a-kind artefacts are retained in the collection.
He said: "I sympathise with them needing money because they've got a big building to maintain. We only have a relatively simple museum in Lossiemouth.
"I would like to think that they would only get rid of things that they have duplicates of."
The Falconer Museum is the only one funded by Moray Council after it cut off financial support to Elgin Museum in 2015.
The results of the valuation process will need to be approved by councillors before any sale can be approved.
In a report for Wednesday's meeting, economic development officer Reni Milburn, revealed an auction house had already suggested they would be happy to survey the collection for free.
She said: "Funding is needed to provide a financial base to invest and maximise the resources to ensure that the service has a long term future."
Mrs Milburn added: "Many items have been in storage for a considerable time and work to date highlights that there are also some items of which we have more than one example and very few have actual estimates of the value.
"It is proposed to engage suitable auction houses to review the collection and identify items which would be suitable for auction."