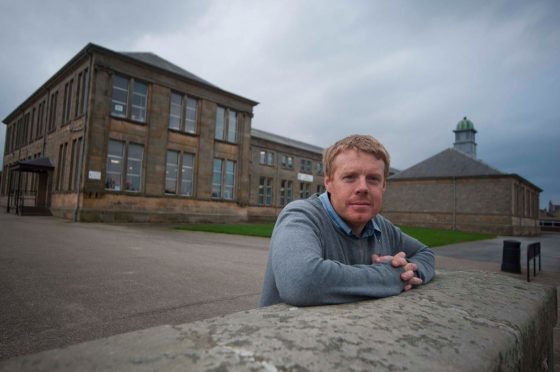 A shake up of the secondary school week has been hailed as a possible solution to Moray's teacher recruitment crisis.
The region has struggled to attract classroom staff for years due to applicants opting to pursue careers elsewhere.
Now there is hope that extending the school day from Mondays to Thursdays and leaving Friday afternoons open for extra curricular activities could provide a much-needed boost.
However, the radical proposals attracted a mixed response from parents who feared the changes would not lead to better results and would increase childcare costs.
And warnings were made that savings will have to be made elsewhere to find the expected £200,000 a year additional transport costs.
Neil Johnson, head teacher of Buckie High School, believes students reaping the benefits from the new system will act as a draw to staff.
He said: "One of the aims of doing this is to raise the attainment of young people, teachers are attracted to successful schools that are doing the best job they can.
"If we can say we are doing everything we can to do that then we will be more likely to attract more staff.
"I can't guarantee more people will move directly as a result of it but people like to move towards success and this is something we're trying to do to increase the level of success for our schools."
Elgin High School head teacher Hugh McCulloch also gave his backing to the arrangements.
When pupils in Moray returned following the summer holidays last month the council had 42 classroom vacancies.
The new secondary school timetable arrangements, which were approved by Moray Council yesterday, will come into effect next summer.
The changes will lead to Monday to Thursday lessons running from 8.45am to 3.40pm, with Friday classes ending at 1.10pm.
However, the changes attracted opposition from some parent groups.
Fochabers Lhanbryde councillor Marc Macrae revealed Milne's High School parent council had "spoken against" the new timetable while Elgin City South councillor John Divers said Elgin High School's group was in favour.
Elizabeth Watson, chairwoman of Forres Academy parent council, said: "I'm surprised they've gone through with it. We had split views from parents.
"Some were in favour of Friday afternoons off for extra curricular things but on the flip side there were parents with extra childcare costs and with children still in primary school.
"The loss of the registration 10 minutes at the start of the day was a worry too – that can be quite useful to help organise the day."
During yesterday's full council meeting, Tim Eagle, chairman of the children and young people's committee, said children were currently being failed because teachers were "rushing" courses.
He said: "Our teachers are doing the most amazing job in possibly the worst teaching crisis we have ever seen. Our head teachers are desperately trying to keep our schools together and working hard in class, some of them, to do that.
"This won't save us money, it will cost us money but it's about the best for our children."
As a result of the new timetables, Moray Council will have to renegotiate transport contracts with bus operators – which is expected to cost £215,000 extra  a year.
Keith and Cullen councillor Donald Gatt said: "I have no issues or conflict with the education department. It's just the funding that I'm concerned about.
"Councillors will also have to consider what they want to cut and how they will explain that in order to find the money for this."
Keith and Cullen councillor Theresa Coull said: "Money shouldn't come into this. This is our children we're talking about."
HOW IT WOULD WORK
The new timetables are expected to give pupils more time in class to get better results.
From next year, secondary schools in Moray will have 33 periods for weekly lessons instead of the current 30.
And teachers hope the changes will help students land better qualifications.
Buckie High School head teacher Neil Johnson said: "The primary reason is that in order to let our S4 pupils take six qualifications we have reduced the amount of time per course.
"The recommended contact time for the course is 160 hours – but some courses are only getting 113 or 114 hours at the moment. It's self-evident teachers are struggling to get to everything they need to.
"The extra time at that level will get us much closer to where we need to get to."
Friday afternoons are expected to allow opportunities for students to take part in sport classes, Duke of Edinburgh expeditions and work placements.
Elgin High School head teacher Hugh McCulloch hopes the free time will help open doors for pupils.
He said: "We've already had significant discussions about it. We're looking to work with outside groups, and our staff, to provide opportunities for students in the school and elsewhere.
"With our new-build school, the opportunities we're going to have will be greatly enhanced on Friday afternoons."