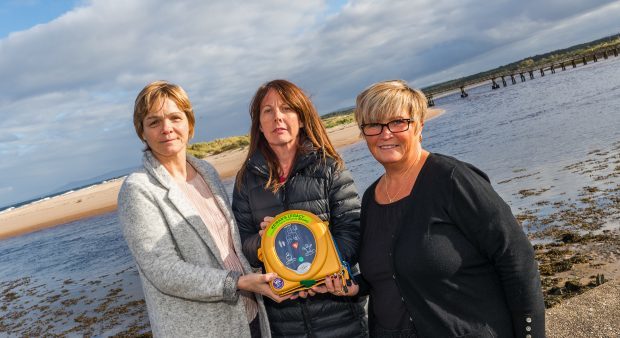 A coastal Moray town is braced against the dangers that the sea can pose now that lifesaving defibrillators have been installed by its two beaches.
Lossiemouth Community Council yesterday celebrated the installation of the kit along its popular seafront areas.
A defibrillator catering for the East Beach has been placed beside the 1629 restaurant on Clifton Road, an area which usually bustles with visitors during the summer.
The Skerry Brae Hotel, on Stotfield Road, has been selected to home the device for the West Beach and all of its employees have been trained on how to use it.
A third machine is soon to be added to the collection, located in the town's Community Centre on Coulardbank Road.
The machines use electricity to jump start the hearts of people suffering cardiac arrest.
Yvonne Murray, a lecturer at Moray College, approached the community council about bringing them to the town last year.
The Lossiemouth resident said her priority would now be making sure that locals know how to use the devices.
The 52-year-old said: "We have all heard about ambulances occasionally taking a long time to respond to emergencies, which is what makes these machines so important.
"They really help people's chances of survival, as it means they are receiving treatment earlier."
Vice-chairwoman of the community council, Carolle Ralph, praised those in the group who worked tirelessly to raise the £4,000 required for the defibrilators.
She said: "We are surrounded by water here, and that can bring about so many potential risks."
Defibrillator campaigner Sandra McKandie has offered the Lossiemouth group guidance on the machines.
She and husband Gordon are pressing to have the devices installed in every police car in Scotland, for when officers arrive at the scene of accidents before ambulances.
Their 16-year-old son, Keiran, was killed last year after being knocked from his bike.
Paramedics sent to treat him took 27 minutes to reach the scene.
Mrs McKandie said: "We know how vital these machines can be, and we are all for having them all over the area.
"And for us, this is a way of carrying on the positivity that Keiran had during his life."
The first training session will take place at 6pm on Monday, October 23, at Lossiemouth Community Centre.