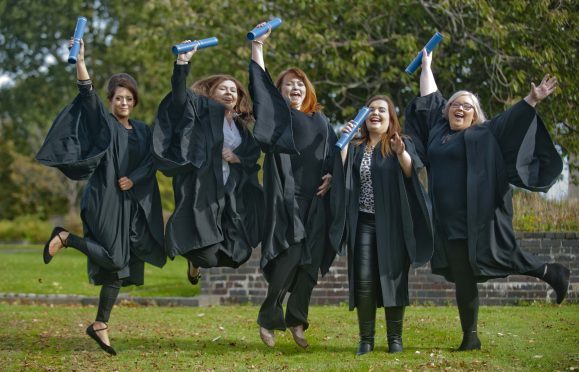 Hundreds of students were encouraged to become the backbone of Moray's economy during their graduation ceremony yesterday.
The Moray College functions took place at Elgin Town Hall, with events in the morning and afternoon.
The graduates were spurred on to make the most of the new chapter in their lives, now that they have secured their degrees and other learning certificates.
Former Moray MP Angus Robertson, said being guest speaker was a "tremendous honour".
The SNP deputy took the opportunity to highlight the potential to embark on a rewarding career within the area.
He said: "I want to encourage any one of you who wants to follow a dream of setting up in business.
"And there are many experts, mentors and organisations out there that will help you do that.
"Moray is a region with great potential, and you can help to fulfill that potential."
The politician mentioned leading food and drink firms and the armed forces as local avenues of employment.
He finished the speech by telling the assembled students they were "the future of Moray, and the future of Scotland".
Fiddlers from Milne's High School in Fochabers played a selection of folk tunes as rows of proud friends and relatives took their seats for the afternoon event.
The ceremony got under way with the graduates, dressed in black gowns with purple trim, being led into the hall by a lone piper.
Some looked nervous, while others excitedly waved at their loved ones in the crowd.
Peter Graham, the chairman of the college's board of management, praised the students and the parents who "kicked them out of bed in the morning to attend lectures".
College principal David Patterson reflected on a tough 12 months for the facility itself.
He said: "We have been operating on a deficit, and had to work hard to get ourselves back into a financially sustainable position.
"But today is about more than just the pomp and circumstance, it is about the joy we feel at individuals moving forward towards the future that they want."