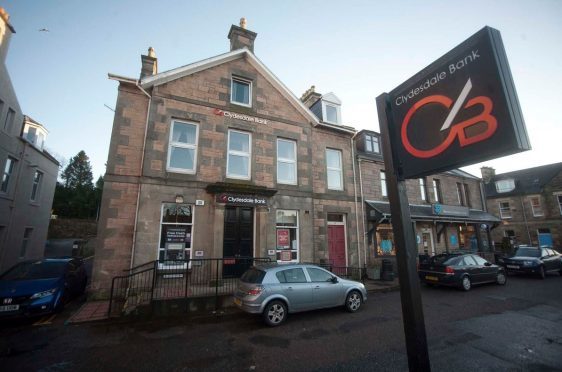 A bank machine may soon be back in the heart of a Speyside village as part of a shop expansion.
The final 24-hour hole-in-the-wall was boarded up in Aberlour in May when the Clydesdale Bank shut its branch there.
The move prompted tourism fears in the area after it was revealed visitors were travelling to Elgin and Grantown to get money due to the Rothes ATM frequently running out because of the extra demand.
Now plans have been lodged to reinstate the cash point at the former bank as part of the expansion of yarn shop Three Bags Wool.
Owner Sarah Nairn-Anderson wants to move into the striking building following a surge of popularity in knitting, while also opening a cafe and gift shop.
She said: "We've been looking to expand for years but there's never been the right place.
"I had started to look in Grantown just because of the lack of premises in Aberlour – when the bank came up I jumped at it."
She added: "No bank machine has been a struggle. Visitors to the area, especially tourists, can't pay without cash.
"It's been difficult over the summer so I think everyone will be glad to see it back."
The former Clydesdale Bank will be Three Bags Wool's fifth premises in Aberlour after initially opening 10 years ago.
However, yesterday Mrs Nairn-Anderson hopes the move will end her search for a "final destination".
It is hoped that the wool shop will be open for business in its new home next year.
Clydesdale has always insisted it intends to retain an ATM in Aberlour but is unable to do so while the building is empty for "security reasons". It is understood the machine would be operated by a separate firm.
Brian Doran, chairman of business association About Aberlour, said: "Having the bank machine back will make a huge difference, not just for residents and businesses but for also for the tourists that depend on it.
"We want them to be able to get cash out here so they can spend it in our community.
"It's also good to see a local business expanding."