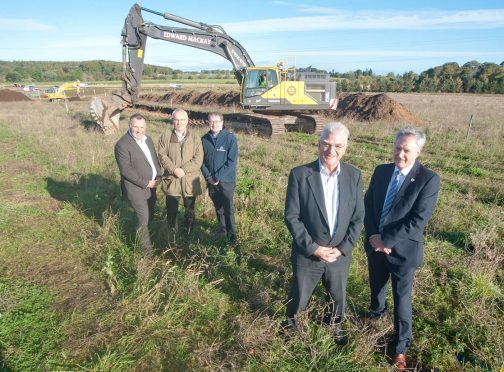 The first turf has been cut on a £12million business park in Moray that could create up to 4,000 jobs.
The Barmuckity project near Elgin was first proposed more than a decade ago, but now firms are expected to be able to start to move in by summer next year.
Hopes have been raised the 125-acre site will create a business boom in the area by creating large plots of land for firms that have been searching for new homes.
Diggers have begun carving out the path that roads will take on fields next to the A96 Inverness to Aberdeen road, which is expected to create a "gateway" to the Moray town.
Yesterday, the man spearheading the project, Alan Esson, revealed there was already interest from businesses keen to move onto the site – including a hotel and restaurant.
The director of Elgin Business Park said a hotel operator is currently doing surveys for accommodation, while a restaurant and a local manufacturing company was also eyeing up a move.
Elgin firm S&D Harper is also preparing to move there.
Mr Esson said: "The sign has been up at the side of the road for a while but now there are diggers here we're really expecting interest to heat up.
"Companies have been constrained in the Elgin area for a number of years now. They are looking to grow but there's been so little land available.
"The council sites are a bit smaller so what we're hoping will be attractive here is that we will be providing sizeable plots."
Work on the first phase of the development, which spans 66 acres, is expected to cost £6.8million alone.
Storage, distribution, offices, hospitality and warehouses are uses that have been earmarked for the land. It is also expected that about 190 homes could be built there.
A new roundabout will be created on the A96 between Elgin and Lhanbryde to form the entrance to the business park.
The project has been singled out as a key part of Moray Council's bid for city deal funding to complete the entire masterplan.
And last night John Cowe, chairman of the authority's economic development committee, agreed the plans "tick the box" to strengthen the region's case.
He said: "It's what we need for growth. There's been a big shortage of industrial land in Moray for some time now and it's taken some time to get it to this stage.
"I'm just delighted to see the turf getting dug up now."
Mr Esson added the project had proved to be "unviable" until a funding boost of nearly £1.9million from Highlands and Islands Enterprise (HIE) to kick-start it.
The current construction work will get the business park ready for firms to relocate to.
The complex will also include a wetland water feature, an avenue of trees and possibly another access road to the south of the town.
David Oxley, HIE's director of business and sector development, said: "The industrial parks that are in the town at the moment are quite old.
"Being right on the Inverness to Aberdeen corridor will prove very attractive to a lot of companies, especially following the dualling project.
"There's been a big lack of land in Moray over the last decade or so this will really help local companies to grow."
Sandy Adam, a director of Elgin Business Park, added: "A huge demand has built up from businesses. They're going to get that opportunity to expand now.
"It's also going to invite people into Moray from outside the area."