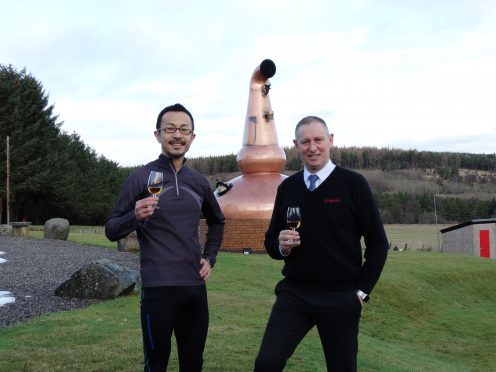 Two whisky aficionados have devised an endurance event to celebrate the natural beauty of Speyside and the distilleries which grace the landscape.
This weekend, more than 800 marathon runners will set off from Ben Rinnes and head towards Dufftown as part of the inaugural "Dramathon".
Between the start line at Glenfarclas and the finish at Glenfiddich, the course weaves its way past 10 distilleries, including Tamdhu and Cragganmore.
And the natural reward for completing the undulating course is six miniatures containing some of the finest malts from the region.
Ian King, who lives in Paris, devised the concept with his former colleague Jon Dunderdale, who is from Tain originally but now lives in Toulouse in the south of France, after organising team-building events for firms in Scotland.
Mr King stressed that runners would be under strict instructions to only stop for a dram at the end of the course.
He said: "The original inspiration for the run is actually an event in France at Bordeaux, where people run and taste wine every couple of miles.
"It's very fun, people do it in fancy dress, but some do get to the finish line and are a little wobbly on their feet. So we quickly decided it wouldn't be a good idea to do that with whisky – but the idea of an event going past the distilleries really attracted us."
The duo began drawing the course on maps more than two years ago and have walked the route several times to test it.
After starting at Glenfarclas Distillery, the runners will head towards Ballindalloch before following the Speyside Way past Tamdhu and Knockando distilleries.
The route takes in the award-winning architecture of Dalmunach Distillery in Aberlour before finishing at Glenfiddich in Dufftown. Shorter half marathon and 10K events are also being organised.
Mr King fell in love with Speyside and its whisky during repeated visits to the area when he lived in Edinburgh.
He said: "Jon and myself are beginners at this – he's more into whisky and I'm more into running.
"We really hope it becomes a tradition and grows. We've deliberately kept it low-key this year, just to check the capacity of the course, but we could look at expanding it next year."
The Dramathon marathon begins at Glenfarclas Distillery on Saturday, October 21, at 10am.