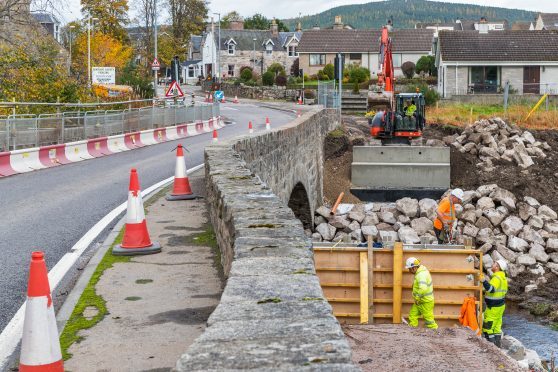 Work to help fully reconnect a Speyside community to its surrounding area will enter its final stage this weekend.
The £200,000 footbridge replacement project at Cromdale Village began in September, and the final parts of the new timber and steel crossing will be lowered into place on Saturday.
As a result the A95 trunk road, which runs parallel to the crossing, will be closed from 11pm until 6am the following morning to make room for the 200-tonne crane needed to complete the work.
The new, wider bridge is scheduled to open to the public next month, and will allow those using wheelchairs, mobility scooters, pushchairs and bicycles to more easily cross the Spey.
Ward councillor Muriel Cockburn said: "I think it's fantastic that it's happening.
"It's important for the people of Cromdale that they are connected and not forgotten.
"It is nice to see what has been talked about for quite a period of time actually coming to pass."
Councillor John Bruce added: "It is a very important improvement to the village.
"The pedestrian footbridge will help people to cross the river if they are in a wheelchair and people will be able to cycle across it."
Andy Thompson, BEAR Scotland's north-east representative, said: "The Cromdale footbridge replacement project has been progressing well, and we're now turning towards this final phase which will see the new bridge lowered into position by crane.
"We only ever close roads when it is essential, and in this case the bridge has to be closed for everyone's safety during the installation of the new footbridge.
"We've taken steps to minimise disruption as much as possible during this last phase by scheduling the works to take place overnight and at the weekend when traffic is generally quieter.
"Our teams will do all they can to complete the new bridge installation as quickly and safely as possible, and we hope the community will be pleased with the results once the bridge opens in the coming weeks once the last remaining works are completed."
During the works, light vehicles will be able to access the village via the A939 and B9008, while HGVs will be diverted to Elgin.