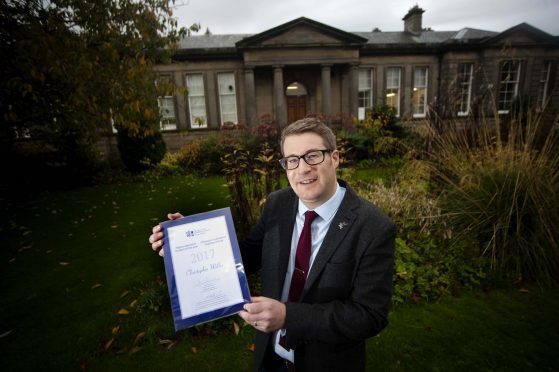 A Moray airman studied for his degree while completing gruelling 12-hour shifts repairing fighter jets in a war zone.
Sgt Chris Miller, an aircraft engineer at RAF Lossiemouth, has now graduated from Moray College after completing his course in circumstances his classmates could barely comprehend.
And the 35-year-old was presented with a special "student of the year" prize at the Elgin venue yesterday, in recognition of his commitment to studying.
While celebrating achieving the BSc honours degree in sustainable development and renewable energy, Sgt Miller reflected on a busy seven years as he completed the part-time course in conjunction with a demanding full-time job.
He said: "In 2013 I went to Afghanistan for four months, over Christmas, where I was trying to submit essays while working 12-hour shifts.
"As a sergeant, I was in charge of a team of engineers fixing Typhoon aircraft.
"I was working on my dissertation while over in Cyprus in 2016, which was especially challenging and the deployment meant the deadline had to be postponed for a year.
"Over the last few years I've also had to study for the course while undergoing Typhoon training courses at other bases.
"There were times when I wondered if it was all becoming too much, but my lecturers were very supportive and helped me even when they were on holiday.
"And thankfully a lot of the degree could be done over the internet, with video conferencing and online lectures."
Sgt Miller, who is originally from Pickering in Yorkshire, joined the RAF aged 18.
He moved to Kinloss in 2008 before transferring to Lossiemouth the following year, and now lives in Moray with his wife, Laura, seven-year-old son Jack and four-year-old daughter Beth.
The airman says he has no immediate plans to leave the RAF, but now feels more confident about his chances of landing a good job when he does.
He added: "The degree is about trying to plan for the future by creating sustainable projects.
"And for me personally, it was about planning ahead for when I leave the RAF.
"I feel in a good position now that I have the degree."
Aberdeenshire students comes on leaps and bounds following knee injury
Sgt Miller was nominated for the "student of the year" accolade by his lecturer, Donna Clark.