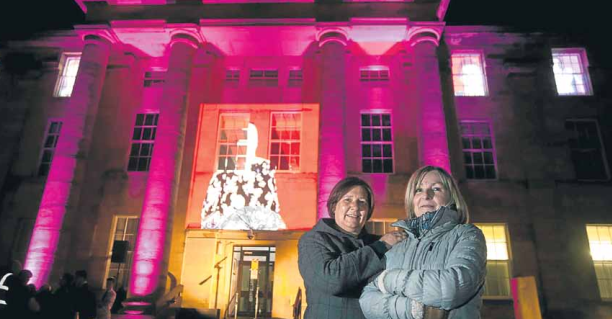 The staff at Moray's biggest hospital have become the stellar cast in a video that was beamed onto the side of the building.
About 80 employees at Dr Gray's Hospital in Elgin were filmed as part of the Grampian Hospital Arts Trust (GHAT) project to highlight the range of people working there.
Images of doctors, nurses and paramedics were shone into the windows in the building's striking Victorian architecture, which will celebrate its 200th anniversary next year.
Employees winked, flexed their muscles and played with model skeletons in the film, which was accompanied by stirring performances from the Bel Canto youth singers.
Last night, staff gathered in the car park to enjoy the video projection.
Among them were Sheila Sellar and Susan Graham, who both work in the building's Health Point, who waved and gave a thumbs up to the camera.
Alasdair Pattinson, general manager of Dr Gray's, appeared in the projection making calls on his mobile phone.
He said: "It's been a brilliant way to celebrate all the staff that we have working here. GHAT have worked really hard on a variety of ideas.
"It's nice to be able to share the night with the community, who I'm sure value the excellent staff in the hospital.
"It also highlights the architecture of the building and the status it has in Elgin."
The video footage was shot in the hospital's canteen before being split into separate films to be shown in the building's windows.
Staff appeared to be moving between rooms in the upper floors to the audience who were watching from outside.
Graeme Roger, one of the artists who worked on the project, revealed the team was currently devising similar ideas for Dr Gray's 200th birthday.
He said: "We wanted to look at how the hospital could be used in a cultural way, which isn't the normal perspective for them.
"An easy starting point for us was the staff. They were amazing and have been the real stars through all of the filming sessions.
"The project runs until September next year. There's an amazing garden out the front which has potential. This just shows what can be done."